ISAT IN TOKYO
The Indian Student Association at Tokyo Institute of Technology (ISAT) is a non-profitable students' association formed in 2017 by Ms. Shreya Thusoo (currently working at Oriental Consultants, Tokyo) with Prof. Bhanu Pratap Das as the advisor at the Tokyo Institute of Technology, Japan. We work as a platform for connecting and supporting the current and incoming students at the University, particularly the students of Indian origin. As a representative of India, the group also aims to promote and introduce Indian culture to students through various activities like get-togethers, day trips, workshops, and cultural events.
The ISAT group, alongside the UTISA (University of Tokyo Indian Students Association) organised a Diwali meet-up for the students of both the Tokyo Institute of Technology and the University of Tokyo. The program had icebreaker games to introduce the attendees to each other, fireworks, Mehandi application, sweets and dinner at an Indian restaurant.
Not only did the students of Indian origin at both universities joined, but the event saw the participation of foreign students and even Japanese locals of all age groups. Other than cultural promotion, another point of focus is academic promotion. In the past, the group has organised an IIT-TiTech-UTokyo collaboration meet and also had a short-lived academic lectures series. The brief profile of the office bearers are as follows:
President: Sameer Deshmukh
Sameer is a Ph.D. student in the Computer Science department at Tokyo Institute of Technology. His main research interests are concerned with accelerating the development of simulations such as wave scattering, molecular dynamics and climate models by trading off accuracy for speed. He runs his algorithms on supercomputers such as FUGAKU and ABCI. Sameer is from Pune, India and loves to spend his weekends reading, hiking or meeting friends.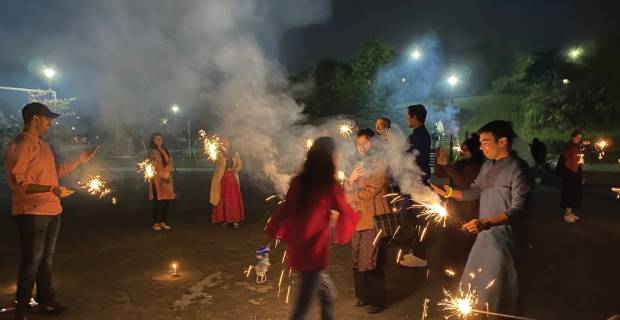 General Secretary: Ikshu Gautam
Ikshu is a Post-Doctoral Researcher at the Earth and Planetary Science division of TokyoTech. She carried out her Doctoral research (PRL, India) in understanding primordial mantle evolution of Earth using short-lived isotopes. Her current research focuses around finding isotopic signatures of the late accretion of Earth in the terrestrial rocks. She is also a member of the initial analysis chemistry team of the Hayabusa2 project. She worked with the pristine samples from Ryugu asteroid, carrying out the multi-element separation for further isotopic analyses. Ikshu has lived in various cities in India and her hometown is Chandigarh. She is an ambivert with varied interests.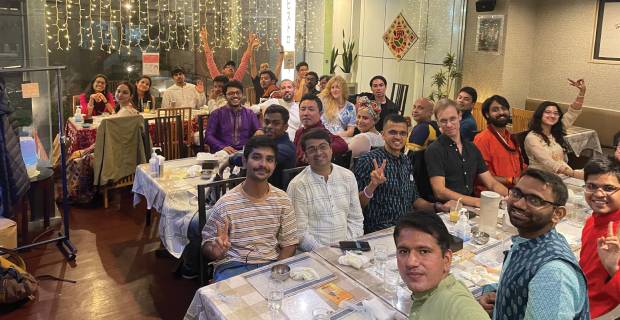 Public Relations Officer: Shreesh Babu
Shreesh Babu is a Master's Student in the Mechanical engineering department at the Tokyo Institute of Technology. Under this department, he majors in the course of Engineering Sciences & Design which encourages students to develop a holistic approach to identifying users' needs and problems and coming up with solutions using the Design Thinking framework. His research involves developing indoor-based dangerous situation detection systems to help minimize injuries among children and elderly people. He comes from Chennai and has been in Japan for almost 7 years while enjoying his student life.
Embassy Relations Officer: Vinayak Gupta
Vinayak is a doctoral student in the Department of Transdisciplinary Science and Engineering. His field of interest revolves around sewage engineering, life cycle analysis, techno-economic analysis, and the socio-psychological factors governing decision-making. Vinayak hails from Jaipur and believes that Japan and India have many common cultural attributes which can be tapped to create a healthy relationship between the two countries.
Cultural Secretary: Mitali Ahuja
Mitali is a Master student from Haryana majoring in Artificial Intelligence under the Department of Computing. Her research focuses on Brain Computer Interfaces and Speech Recognition.
Webmaster: Shipra
Shipra is a Masters student in the Natural Language Processing Group at Tokyo Institute of Technology. She hails from Jaipur.