NCIC Hall of Pioneers
The National Council of Indian Culture (NCIC) has inducted 11 prominent members of the Indian diaspora in Trinidad and Tobago at Divali Nagar, Endeavour on Saturday night. In the words of Dr Deokienanan Sharma, president, told the gathering that the 11 persons selected are "models whom all of us and particularly our youth should try to emulate." This is the eighth edition of the programme.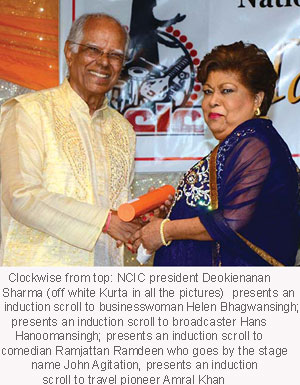 He added: "They have come up through humble beginnings as you would later hear and also read in their biographies which we have distributed. Success for them came through hard work, honest application of effort and perseverance in whatever they undertook to do." This Hall of Pioneers is aimed at providing "where future generations can come and read and learn about their contributions to nation building", he said. It was in 1964, July 19 to be exact that the NCIC was formed placing Indo-Trinidadian culture on a solid footing for the first time, and even then the organization struggled as Indo-Trinidadian culture was not recognized as a part of the culture of our country, Dr Sharma noted.