"T&T provides opportunities to forge win-win synergies"
Trinidad and Tobago occupies a special ...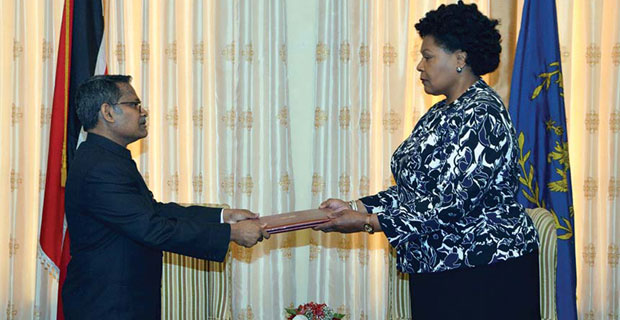 Presenting credentials to Trinidad and Tobago's President Paula-Mae Weekes
T&T's relative affluence has led to many Indian and NRI businesses to flock to that nation over time. What is the presence of such businesses like at this moment?
In T&T some of the main sectors that Indian nationals seek to operate businesses are Indian expos (textiles and clothing), food and beverage, auto components, iron and steel, bulk drugs and ayurveda. The Non-Resident Indian community in Trinidad and Tobago constitutes about 600 families (1,800 persons) who are engaged in business, teaching, medicine and other professions.
Can you tell us a little about the Indian presence in the other three territories/nations under your charge—that is Grenada, Dominica and Montserrat?
Grenada: There is a small Indian community in Grenada consisting of businessmen who deal in general merchandise and small-scale trading activities. There are nearly 3,000 Indo-Grenadians in Grenada who are represented in the Indo-Grenada Heritage Foundation (IGHF) and a few professionals and academics who teach at the St. George's University.
Dominica: Nearly 30 persons of Indian Origin and a few Indian business families reside in Dominica.