PM Reaches Out To Israel
As Prime Minister Narendra Modi prepares to visit Israel in July 2017, it is worthwhile recalling the major points he made when Israeli President Reuven Rivlin was in India in November 2016
Indian and Israeli companies can also work together in high-technology manufacturing, and services sectors. Make in India and as President Rivlin told me in our discussion, Make with India can generate jobs and benefit both geographies. Our partnership can generate jobs and benefit both geographies. IT services is an area where our partnership can make a difference for both our economies.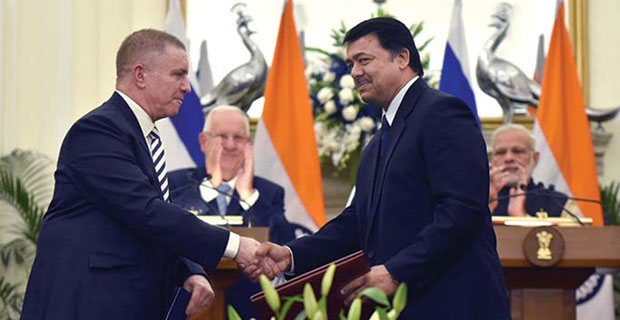 The Prime Minister, Shri Narendra Modi with the President of Israel, Mr. Reuven Rivlin witnessing the exchange of agreements, at Hyderabad House, in New Delhi on November 15, 2016
President Rivlin and I deeply value our strong and growing partnership to secure our societies. Our people are constantly threatened by forces of terrorism and extremism. We recognize that terrorism is a global challenge, knows no boundaries and has extensive links with other forms of organized crime. Regrettably, one of the countries of its origin and spread is in India's neighbourhood. We agreed that the international community must act with resolve and determination against terror networks and States that harbour them. Failure to act and silence of speech only encourages the terrorists. We,agreed to intensify our cooperation to combat the forces of extremism and radicalization that threaten all peace-loving nations.