Afghan Embassy Celebrates Country's 97th Independence Anniversary
Embassy of the Islamic Republic of Afghanistan in New Delhi celebrated...
It is indeed a great pleasure and privilege to have the presence of so many of our friends tonight to celebrate the 97th Independence Anniversary of the Islamic Republic of Afghanistan. For a clear and significantly important reason, I am not going to give you a long speech tonight to tell you as to where the relationship stands between our two great nations, India and Afghanistan and that reason is the very nature, caliber and the glorious presence of so many dignitaries and friends, sums up that relationship. It signifies the depth of our current relationship and hints at the prospect for our future relationship.
The program commenced with the arrival of the chief guest and playing of the national anthems of the two countries and continued with cultural functions. Live music was performed throughout the evening by Salaam Musical Group. The national dance, Atan, was performed by a group of Afghan students in India and Chob-Bazi (Garba dance) by a group of Afghan Hindus.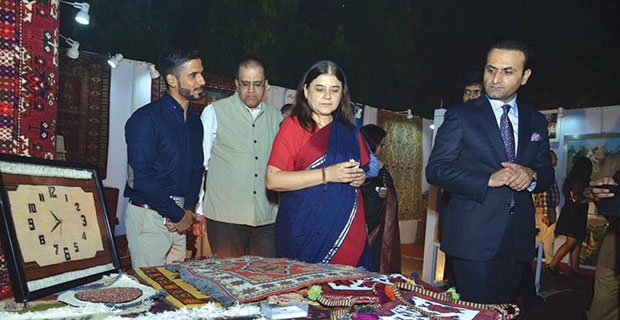 The minister takes a look at Afghan handicrafts
The cultural part of the evening also included a photo and art exhibition displaying pictures of Afghanistan and paintings by Afghan artists. A stall of exhibition showcasing the country's authentic carpets, rugs and Afghan women's handicrafts including traditional dresses added to the glitter of the event.