Business Engagement with India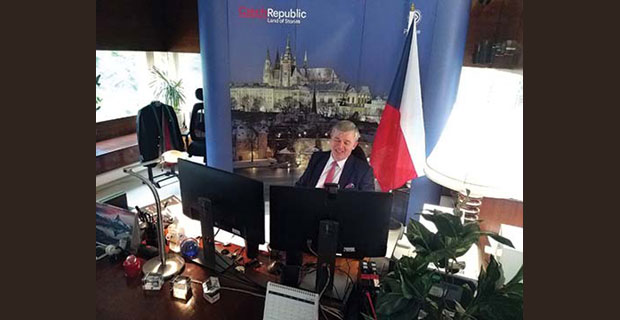 Economic Diplomacy Promoted
Ambassador of the Czech Republic to India, H. E. Milan Hovorka, addressed the Indian audience on September 23, 2021, as one of the panelists during the Webinar Promoting Trade and Investment Opportunities between India and Central and Eastern European Countries. During the remarks, Ambassador focused on topics related to bilateral trade relations with India, opportunities for Indian industries in Czechia, cooperation possibilities, government import and export policies, including trade barriers, customs regulations and other relevant issues, and finding synergies between prospective sectors and the system of support for investors in the Czech Republic.
The insightful webinar on "India-Central & East European Countries Trade and Investment Opportunities" was organized by the Trade Promotion Council of India in collaboration with the Embassy of Czech Republic. The region of Central and Eastern Europe is flourishing with niche capabilities in technology, defense and IT sectors, thereby attracting India. At the same time, despite the pandemic, India is one of the brightest spots in South Asia, with its economy expected to grow by 7.2% in 2021, as per the latest UN projections.
Yet, the bilateral trade in 2020 between India & CEE stood at US$ 7.9 billion according to the ITC Trade Map, with India meeting 1.13% of its import needs from CEE & constituting 0.43% of CEE's total imports. Therefore, there is phenomenal untapped potential between the two regions, which this webinar aimed to bridge.
Among those who addressed the audience were H. E. Milan Hovorka, Ambassador of the Czech Republic to India, H.E. Ms. Daniela Mariana Tane, Ambassador of Romania and Mr V.K. Gauba, Additional Director General, Trade Promotion Council of India. The webinar was very well received by participants and attendees.