THE GREEN KARMA YOGI
If you want to be creative in any field, you have to observe. The deepest possible observation will bring enormous vision.
—Sadhguru
Back in 1989 when India's economy was still on the thresholds of opening up to the world and liberalization was a term that hadn't seeped its way into our collective consciousness, Ashwani Khurana, only 28-years-old at the time, became the country's highest income tax payer. It was a powerful statement by a young businessman, who growing up in the 1960s and 70s, had seen his family—uprooted violently from erstwhile West Pakistan during the painful throes of India's partition—navigate almost constantly in dire financial straits. By becoming the highest income tax payer in India at a very young age, Ashwani not just covered himself in glory by leaving many celebrities and top industrialists behind, he made his family very proud as well. Indeed, Ashwani Khurana had arrived!
His financial success in the 1980s allowed him to invest in a 300-acre tract of land—today famously known as the Karma Lakelands—just across Delhi's border in Gurugram, on the national highway to Jaipur. He decided it would be a top-end, gated residential complex, full of trees, a place where brick and mortar would not be shy of playing hide and seek with the plentiful forests. This at a time when going green wasn't quite in vogue. Clearly, Ashwani Khurana was ahead of his times, his deepest observations of the environment around him had given him a vision to do something good.
THE INCREDIBLE KARMA LAKELANDS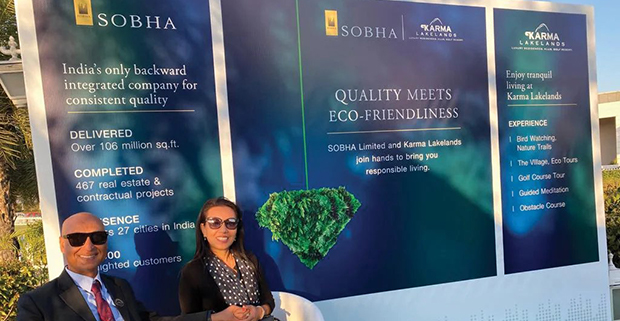 Karma Lakelands is today a magical place, a must visit for those who like to know more about aesthetics in town planning. It has high-end villas, and cottages, all in a forested setting, away from the din and bustle of a busy city life. The place is elegantly woven around water bodies and, of course, its pièce de résistance, the soothing golf course designed by Phil Ryan of Pacific Coast Design, Australia. In terms of setting high standards, it is the proud recipient of India's Eco-Friendly Golf Course Award by Golf Digest. It is also a place where Ashwani would take the great Sadhguru—his spiritual master at one time—to soak in the lush ambience, and the two golfed together whenever the universe permitted them to.
It is also a happening place. Recently, Karma Lakelands has tied up with the well-known Sobha Developers for raising a 700-apartment complex. The Government approval is already in place. The project promises to provide a unique fusion of the values that both companies represent.