"MOIA is a smaller ministry, but more important for me than even MEA"
Mrs Sushma Swaraj Minister for External Affairs and Minister for Overseas Indian Affairs
You are now helming two ministries—External Affairs and Overseas Indian Affairs. Does it mean that now we can expect India's foreign policy to look towards Indian diaspora in a more aggressive way?
I have taken charge of the Ministry of External Affairs today morning. And now in the afternoon I have just taken charge of the Ministry of Overseas Indian Affairs. MEA is a big ministry. MOIA is a smaller one. But for me the importance of the MOIA is even more than that of the MEA. But the MOIA is one Ministry whose interactions are directly with the people. At the MEA I have to undertake journeys to meet leaders from different countries, some of them big. I have to talk about the strengths of our country before those leaders, and improve relations. But here at the MOIA, my own people are settled overseas, for whom there are no caretakers, no one to inquire about their plight. I want to improve their condition, and for that I have been entrusted this ministry. The satisfaction that I will receive from this ministry is far greater than anything else.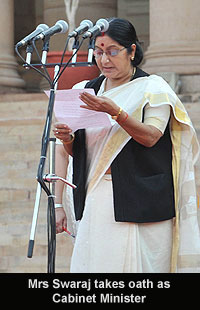 You will be working closely with the missions…
With these two ministries remaining with one minister, the biggest work will be—and I was just sharing this with the secretary and others—to sensitize the missions. Whatever work needs to be done will have to be done through the missions. There are various schemes which the MOIA has that are running through missions. The missions also should feel that the Government has changed. And there is someone who wants to ask about them. I am very happy, therefore, that the Ministry may be small, but from the point of view of importance, it is very big.
The diaspora is very diverse. How will you address this diversity?
I have made this decision today itself that I would first get a list of Indian states from where maximum emigration has taken place. I will subsequently invite the MPs of those states, and ask each one of them about the exact problems faced by the people who have migrated from their states. As leaders and representatives of the people, they would directly be in the know of such problems.
In the first week itself we would be writing to these Parliamentarians from whose states maximum emigration has taken place. Each one has different problems. Those going from Punjab have problems different from those going from Andhra Pradesh. Those going from Kerala have different problems, the ones that have gone to the Gulf, their problems are different. Ones who have gone to developed countries, their problems are different. I will talk directly to the people's representatives, identify the problems, and then work out how best we can deal with those problems through the MOIA.