Humour, Satire and Quirkiness of Indian Art
NRI art lovers, avid collectors and committed connoisseurs of Indian art, overseas Indians can discover the vibrancy and the creativity of Indian and foreign artists at the annual Indian Art Fair—a visual feast for the eyes, reports Kul Bhushan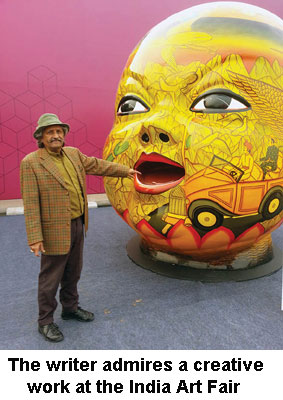 As art lovers, avid collectors and committed connoisseurs of Indian art, overseas Indians are active bidders for works of reputed Indian artists at major auctions in London and New York, among other places. If they want to expose themselves to a huge variety of Indian and global artists, then the Indian Art Fair in New Delhi is a must.
Any fair is judged by the caliber of the visitors. Here the NRIs will not experience the shoving and pushing, the loud chatter or the litter. Before it is inaugurated, receptions are held for collectors and foreign visitors. During the four-day event, buyers, VIP visitors and art aficionados are allowed and the fair is open to the public after lunch. The entry fee is high at Rs. 300 (around three pounds sterling) per person although art students come at a much lower entry fee. Going round the fair, you see elegantly dressed people talking art in soft tones and keenly admiring the art on display. The three main halls have their own cafes and meeting places and public seating for those get tired. It is all very sophisticated, unlike most Indian public events.
Indian art has come of age with her artists arriving on world stage, selling their artworks for millions of dollars and organising a world class Indian Art Fair in New Delhi. The artworks at the sixth edition of this event just con concluded displayed humour, satire, quirkiness and, of course, imagination.
On entering the main hall, an exhibit showed Mahatma Gandhi sitting before a circular Coca Cola logo. More intriguing was the Mahatma working on his spinning wheel painted a stack of Coca Cola bottle crates! Another such exhibit showed the Dalai Lama's face on these crates. A mobile sculpture by L. N. Tallur showed the mid-life crises of a stone-faced woman squatting in front of a spinning car tyre smeared with mud splattered all over her and on her face. It was titled Path Finder! Here was the rat race offering a humourous version of the spiritual seeker. In all her glory, the Hindu Goddess Saraswati is painted atop a rubber duck! A clothes line had some garments hung to dry but the twist was all the garments were made of small, shiny steel balls!
In addition, jewellery designer Nirav Modi, art-deco furniture, off-beat exhibits like audio experiences, a desktop computer cut in half and its screen showing a newscast stopped visitors in their tracks!
Around 100,000 visitors admired the works of Indian artists and was also surprised by works of Pablo Picasso, Marc Chagall, Andy Warhol and Andre Masson on display. Renowned Indian painters like M. F. Husain, Jamini Roy, S. H. Raza, Dayanita Singh, L.N.Tallur, Anindita Dutta and Rajorshi Gosh and F. N. Souza, sculptures by Anish Kapoor and Subodh Gupta attracted his attention. The fair showcased over 3,000 works by 1,000 artists by 81 exhibitors across the globe. The Fair attracts around 100,000 collectors, art lovers and critics from all over India and abroad. Major art auctioneers, Christie's, a sponsor of this fair, and Southby's were also involved. Other art events are also timed with this fair. The National Gallery of m Modern Art in New Delhi opened an exhibition of renowned artist Amrita Sher Gill's definitive works; Sotheby's held a reception to showcase their paintings for their forthcoming auction in London; and many Indian artists held their shows.