The Tulip Infratech Blossoms
The big brand name, which has arrived successfully and has made its towering presence felt in the Real Estate World, is none other than Tulip Infratech Pvt Ltd. Tulip is a Real Estate Development Organization with its corporate office in Gurgaon. Tulip is mainly into Group Housing and Commercial Projects which have spread at a very fast pace in Gurgaon and NCR. It is the brainchild of the Chairman and Managing Director Mr. Parveen Jain, who is also the Vice President of NAREDCO (National Real Estate Development Council). He started Tulip Infratech in 2005 and within a very short span of time, has made it a major force to reckon with in the Real Estate world.
Tulip's six main group housing projects are concentrated at Sohna Road, Badshahpur, Gurgaon which stand tall on whopping 75 acres of land. There are around 4,800 condominiums in these projects. The nomenclature of these Tulip projects is pleasantly done based on the hues of Tulip flower which goes like Tulip Orange, Tulip Ivory Villas, Tulip Ivory Towers, Tulip White, Tulip Purple and Tulip Violet.
Tulip Ace and Tulip Petals are other major group housing projects, which are located at Pataudi road, Gurgaon. Tulip Grand, yet another Group Housing project is in Kundli, Sonepat. To name a few paradigms of the successful possession of Tulip's projects – Tulip Grand, Tulip Petals, Tulip Orange come into the picture. Tulip Ivory and Tulip White are also complete. Besides completed projects, around 5 million square feet of residential built-up area is under construction and around 3 million square feet residential and 2 million square feet commercial area is in the pipeline.
TULIP VIOLET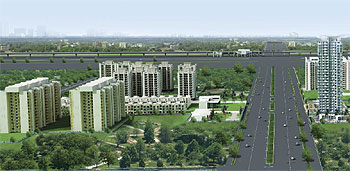 Tulip Violet is the Group Housing Residential project which is one of the most prestigious proffers by Tulip. These multistoried apartments have been designed in consonance with the high-end contemporary lifestyle. The main emphasis of this project is to provide a pollution free natural green environment to its residents so that they can experience and enjoy a peaceful countryside living, away from the hustle and bustle of the big city life of today's world. Tulip Violet is a Green Building in the making and going for Green Building certification from Indian Green Building Council.