The Tulip Infratech Blossoms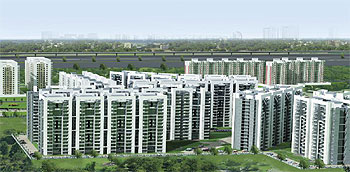 It is spread across over an extensive land area of around thirty nine acres at Sohna Road, Badshahpur in sector-69, Gurgaon. Although Tulip Violet is cocooned inside the tranquil green natural habitat away from the noise, pollution and congestion of the metro city, yet it enjoys all the location advantages which are easily accessible from all the necessities and advantages provided by the metro city. Tulip Violet is located on the 60 meter wide proposed sector road, it is at a distance of only about half a kilometer from the proposed metro and southern peripheral road. Two minutes drive from NH-8 (National Highway) and twenty minutes drive from International and domestic airport.
Tulip Violet will be well equipped with the state of the art facilities like 24x7 three tier security, fully fenced boundaries, dedicated car parking, earthquake resistant RCC framed structures, fire safety compliant, high speed elevators, swimming pools, club, community centre, shopping arcade, kids play area, golf range with putting greens, lawn tennis and badminton courts, jogging track, tree lined roads and walkways, exotic landscaped green lawns with beautiful bollards and lighting poles, ergonomic street furniture and other desired paraphernalia. Vast green Golf course has been delineated in the site where people can enjoy playing golf in sunny winters. Tulip Violet has huge double level and single level interconnected basements, which have been designed to give ample space for car parking along with surface car parking on ground level. All the desired amenities and sports facilities will be provided with in the complex. Tulip Violet is surrounded by five other Tulip projects and shopping malls, commercial hub, schools, health facilities and temples are in the vicinity of the project.
Undergoing construction in full swing, Tulip Violet being one of the biggest housing projects has two types of towers 3BHK–1578 square feet built up area and 4BHK-2010 square feet built up area. These towers are ground plus fourteen storied. A few towers will have penthouses. Also some towers will be air-conditioned. The tallest D-type tower will be thirty six-storeyed, more than twice the height of its surrounding towers and will skyrocket into the azure. This Tulip skyscraper will be around hundred and fifteen meters in height. The small scale versions of the above mentioned Tulip Violet and surrounding Tulip projects can be seen in the beautifully well crafted model kept in Tulip's office in Gurgaon. The principle architect of Tulip Violet project is Design Cosmos and the landscape architect is UK based Strata RMJM.
In Violet, interior material specifications are world class like modular kitchens, granite, marble, wooden flooring, vitrified tiles, anti-skid ceramic tiles, as far as flooring is concerned. For walls acrylic emulsions, permanent texture and paint finishes, ceramic tiles in digital printing will be used. Hardwood door frames with molded raised high density fiber panel doors and UPVC windows shall be used for doors and windows. Ground floor entrance lobbies will be air-conditioned with exquisite lounges. Facilities like video door phone connected with ground floor lobby, apartment to apartment intercom facility, access control, and guard less entry to each tower will be provided.
Tulip Violet is the best deal for buyers and investors due to above described factors which throw light upon the plethora of advantages which Tulip Violet is proffering. Countryside pollution free green environment away from tensions of hectic life and yet easy accessibility from all important destinations, equipped with all the amenities and sports facilities and what not; has made Tulip Violet the number one choice of buyers and investors. Tulip Violet is creating a micro green environment in the macro environment of the Gurgaon and it is unique and advantageous in every aspect. If one is looking for a dream home, he must go for Tulip Violet.
The end users, investors or clients are the ones for whom Tulip Infratech stands for and works round the clock to convert their dreams into reality, successfully on time. This has been the main goal of Tulip and this organization fulfills its commitments. This is the key to success of Tulip and the main reason for the enviable position of Tulip Infratech where it stands today in the Real Estate World.