Blooming Lotus
There is an unmatched flurry of activity as far as the Bharatiya Janata Party's overseas activities are concerned. It is a sign that the party's engagement with overseas Indians that received a break after the first two Pravasi Bharatiya Divas (January 2003 and January 2004) functions during the Vajpayee Government are back on track. For several months now, the Overseas Friends of BJP (OFBJP) has been opening up the party's chapters all over the world with a great deal of gusto, fanfare, and public support. In the last few months chapters have been opened across four continents. We take a look at the rapid expansion of BJP's activities which are roping in Indians all over the world with the aim of furthering economic and cultural ties between India and its diaspora. It all started when nearly 160 registered delegates of Indian origin attended the Overseas Friends of BJP Global Meet in New Delhi on January 7, 2014. The assembled delegates raised hands and vowed to make "Narendra Modi th
Canada and USA
In September, the OFBJP held programmes in the USA and Canada. In Vancouver, Mr Jolly unfurled the Indian tricolor to celebrate India's 68th Independence Day. A programme was organized by Mr Aditya Tawatia, President OFBJP, British Columbia at Bombay Banquet Hall located in Surrey, Vancouver—a central area predominantly inhabited by NRIs and PIOs.
Consul General of India Hon'ble Ravi Shankar Aisola participated in the program as the Chief Guest. OFBJP Global Convenor Vijay Jolly graced the occasion as Guest of Honour and unfurled the National Indian flag at the overcrowded public program in Canada.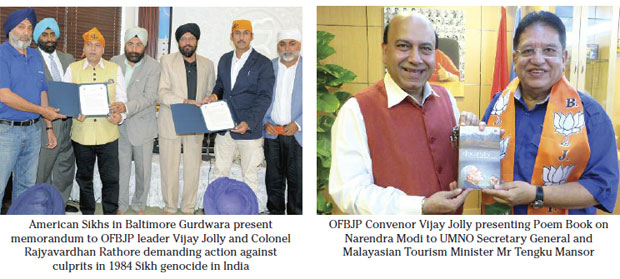 A book on Prime Minister Narendra Modi titled- A Political Biography in Punjabi language was released by Mr Jolly along with Mr Aisola and Mr Tawatia at the program. Homage was paid to Indian freedom fighters Shaheed Bhagat Singh, Raj Guru, Sukhdev and Netaji Subhash Chandra Bose and others. A cultural program of Bhangra, Bharat Natyam and Ghazals were performed by local artists.