Editor's Desk
South African humourist Mokokoma Mokhonoana says that "torn clothes are funny… until your dad gets fired." He is right, there's nothing quite funny about getting fired, or retrenched, or about companies shutting down. The leader presently tasked to retrench hundreds of workers from sick public sector units in India has a tough job on his hands. But Mr Anand Geete, the Minister for Heavy Industries and Public Sector Enterprises, isn't too worried. The voluntary retirement scheme (VRS) packages being offered to workers are indeed very attractive—there are employees currently on 1987 pay scales who under VRS packages will be retired on pay scales of 2007. These workers had hit a dead end in their careers with no growth prospects, and no pay increase. But now suddenly after the VRS packages they will be flush with funds—money that can earn them rich dividends if invested wisely. Mr Geete also knows it is critical to make the Bharat Heavy Electricals Limited (BHEL)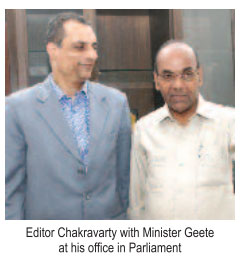 robust and healthy once again. BHEL is one of India's 7 Maharatna PSUs—the elite ones which rake in billions of dollars in profits, and employ hundreds of thousands. The last two years have not been very good for the coal sector due to the Supreme Court's cancellation of allotment of coal blocks by the previous Government. BHEL happens to be the largest manufacturer of power generation equipment. But now with coal blocks being auctioned, things are looking brighter once again for BHEL as far as its order booking position is concerned.
The Minister also happens to be the only cabinet minister in the NDA Government from the Shiv Sena. The party currently shares an uneasy relationship with the BJP, the NDA's majority stakeholder. Often when things get edgy on the political sidelines, it is Mr Geete who works behind the scenes to carry out major damage control exercises. The smile never leaves his face though, no matter how hard it gets to retrench thousands of public sector workers, or keep an estranged relationship from fragmenting.
In November, our magazine held the India Empire awards at a top Indian restaurant in Beverley Hills, Los Angeles, one day before the Regional Pravasi Bharatiya Divas was held in this western American metropolis. A committee set up in the USA recommended names of some outstanding NRIs, and they were felicitated. Their brief profiles and snapshots of the event have been included.
Also, there is a report on the business meet held during the Los Angeles event.
Hope you enjoy navigating through these pages.


(sayantanc@gmail.com)