"Educating girls doesn't only mean educating the entire family but the whole nation"
We had last interviewed H.E. Dr Shaida Mohammad Abdali, Afghanistan's Ambassador to India, in our October 2015 edition. This time the focus of our interview was centered around women's empowerment, a key subject that Afghanistan is grappling with at the moment. Ambassador Abdali put things in perspective in this interview with Editor and Publisher Sayantan Chakravarty...
Interview with H.E. Dr Shaida Mohammad Abdali, Ambassador of the Islamic Republic of Afghanistan
In April 2016, the New York Times wrote that Western efforts to improve the lives of Afghan women in sports had failed conspicuously. But there seems to be a lot going on within Afghanistan itself to allow women greater opportunities in sports. Your views please…
On the contrary, Afghan girls have been making headways in sport since Taliban was driven from power in 2001. Girls teams at the national level have been formed in various fields in sport, there are now national female boxing team, national women's cricket team and a national female football (soccer) team, Afghan Women's cycling team, not to mention their active participation in martial arts such as Kung Fu, Taekwondo and Wushu. Afghan girls competed in sport at regional and national level; Tahmina Kohistani is an example who participated in Olympics 2012.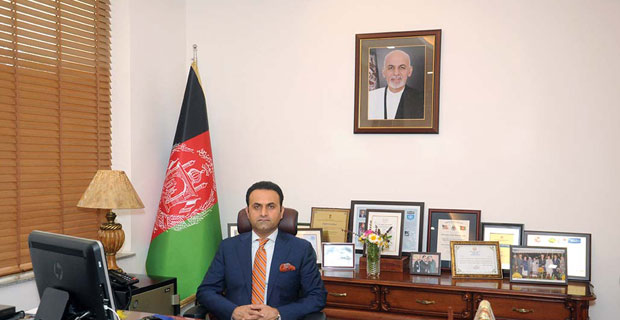 What steps are being taken to improve formal education and literacy among girls in Afghanistan? In India they say that if you educate a girl, you end up educating an entire family. Do you agree with this point of view?
Absolutely, the Afghan government attaches great importance in educating girls because we believe educating girls doesn't only mean educating the entire family but the whole nation and the future of our country. Unfortunately more than four decades incessant conflict in Afghanistan badly affected education, more so girls' education as girls were completely banned from formal education under the Taliban regime. That is why the government is taking girls' education seriously and has been doing everything within their means to improve girls' access to education. Data suggests that significant progress has been made in this regard as the percentage of girls attending school has risen from nearly zero in 2001 to 37% of the total students attending schools.