"We are an attractive investment destination in Central Europe"
H.E. Mr Zigmund Bertok, Ambassador of the Slovak Republic in India, speaks to India Empire's Editor and Publisher Sayantan Chakravarty at the Embassy in New Delhi...
The strategic location of Slovakia offers wide possibilities for Indian firms, mainly in the services sectors. For instance, Infosys has a lot of back offices located in Slovakia. TCS that has an IT centre in Budapest that is about 300 km from our capital city of Bratislava is also opening a centre. A number of young Indian IT experts are travelling to Slovakia and working at these centres.
Going forward, what are the major sectors in Slovak republic that can attract investments from Indian businesses?
The automotive sector is, of course, the leading sector. We've the presence of Volkswagen and Tata-Jaguar. The IT sector would come next. The manufacturing sector in my opinion is the next important sector given that you have a very large Central European market around us, and we are in the EU and offer very attractive opportunities. As I mentioned, Budapest is about 300 km away from Bratislava, Vienna (Austrian capital city) is only 60-70 km away, Prague (capital of the Czech Republic) is about 300 km away. Warsaw, the Polish capital is less than 700 km away. We are well connected to all major European cities. So you can see the clear locational advantage of Slovakia.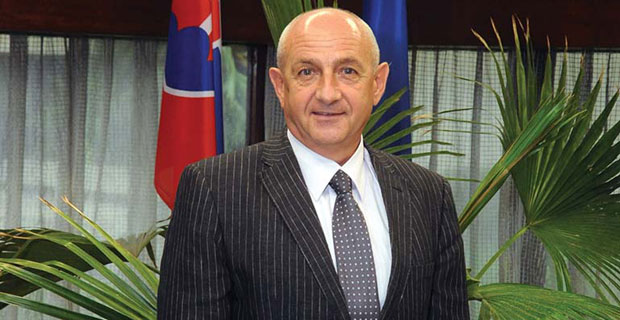 Ambassador Bertok goes through a special anniversary issue brought out by India Empire Magazine. To his left is Mr Michal Horvat, Deputy Head of Mission, Embassy of the Slovak Republic in India
On the cultural front, what kind of exchanges have we had in the recent past?
Last year we organized many cultural events here in New Delhi that included film festivals, exhibitions. We are going to open an honorary consulate in Bengaluru in September and have an exhibition of Slovak and leading European painters to strengthen cultural ties. Last year we also supported a Slovak painter who studied in India. She organizes an artists' residency in Meghalaya on an annual basis, and invites painters from around the world. We supported her final exhibition in New Delhi, after she held two others at Shillong and Vadodara. Last year we also organized concert tours by several Slovak musicians around India.