Bringing India and Czechia closer
H.E. Mr Milan Hovorka, Ambassador of the Czech Republic to India, presented his credentials to the Indian President (then H.E. Pranab Mukherjee) on September 28, 2015 at the Rashtrapati Bhavan. He is concurrently accredited to Sri Lanka, Bangladesh, Nepal, Bhutan and Maldives with residence in New Delhi. In September 2007 he was made Deputy Minister of Industry and Trade in the Government of the Czech Republic. He has a vast reservoir of experience, having served in World Trade Organization in the rank of Ambassador, including in the capacity of chair of the Council for Trade in Goods. He responded to questions from India Empire Magazine. In April 2017, at the India Empire Diplomatic Night, Ambassador Hovorka had received a special award for strengthening ties between the Central European region and India. The award had been given by Union Minister of Steel Chaudhary Birender Singh...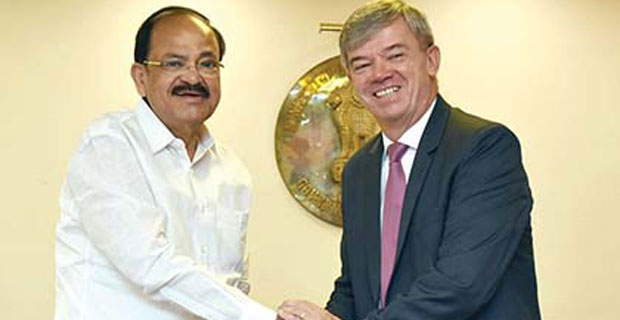 On diplomatic ties…
The first Czechoslovak Consulate in India was opened in 1920 in Mumbai. Czechoslovakia was one of the first countries which recognized independence of India in 1947. The diplomatic relations between India and Czechoslovakia were established on November 18, 1947 and in 1948 the Embassies have been opened in New Delhi and Prague. Presidents Dr. S. Radhakrishnan, Giani Zail Singh and R. Venkataraman visited Czechoslovakia in 1965, 1983 and 1988 respectively. Prime Minister Pandit Jawaharlal Nehru paid a visit in 1955, as did PM Smt. Indira Gandhi in August 1972 and Rajiv Gandhi in August 1986. Foreign Minister Jiri Dienstbier made the first high level contact after the Velvet Revolution in November 1990. In 1993 Indian Minister of State for External Affairs R.L. Bhatia was the first non-European Minister to visit the Czech Republic following the dissolution of Czechoslovakia. A lot of subsequent high level visits paved the way for further deepening bilateral relations in all areas of mutual cooperation including people-to-people contacts. Thus, a way opened for a group of people, joined not only by professional interests, but also mutual sympathies and friendships, to come together.
On bilateral trade…
In 2008, bilateral trade has exceeded the volume of one billion US dollars for the first time in the history of bilateral relations. During 2008, Indian exports to the Czech Republic amounted to USD 510.33 while Indian imports were USD 622.99 million. Both countries have continued efforts for strengthening economic relations through frequent exchange of trade and business delegations. The volume of bilateral trade peaked in 2011 at surpassing the USD 1.5 billion level. In 2013, for the first time in our long history of economic relations, the balance of bilateral trade tilted in India's favour when Indian exports reached USD 641.84 million against Czech exports of USD 561.59 million. The year 2016 bilateral trade reached total volume USD 1.4 billion with Indian exports of USD 732.91 million and Czech exports of USD 622.97 million and even though the Czech export increased by 14 percent year on year the overall balance of trade continues to remain in surplus in favour of India since 2013 because the pace of Indian export growth goes in parallel with Czech export to India. For the Czech Republic India was among the four most important trading partners in Asia in 2016.
On the presence of major companies on either side…
Indian companies have invested in the Czech Republic in sectors like IT, vehicles, tea, textile, pharmaceutical, auto-components. Indian companies like Infosys, Cafe Coffee Day, Tata Global Beverages, Alok Industries, Spentex Industries, Motherson Sumi Systems Limited, Varroc Lighting Systems, Glenmark Pharmaceuticals, Kanoria Chemicals & Industries, Lloyd Electric and Engineering, Minda Management Services, PMP Components, Zomato, have made investment in the Czech Republic. Following on the original investments of Skoda Auto, Bonatrans, BTL, CATAI, Flying Academy, Gearspect, Home Credit, Lasvit, Stros, Technicoat, Fans, Preciosa, Papcel, Skoda Power, Tajmac ZPS, ZKL Bearings and Zetor Tractors, there are a number of new and prospective Czechia's investment projects in India in the machinery, transportation, power, automotive, aviation services, glass manufacturing, industrial coating and consumer finance sectors.