"Confident of doing well in LS elections"
Facing the challenge of retaining all the four Lok Sabha seats, Himachal Pradesh Chief Minister Jai Ram Thakur says he is not being dictated to by the RSS and that he enjoys a free hand to lead the party in the coming elections. For him, development work and no witch hunting is the mantra. "This accusation (of RSS remote controlling him) does not have an iota of truth." Our central leadership has reposed full faith in me and has given a free hand to run the affairs in the state. The RSS is an apolitical nationalist organisation, which has nothing to do with state affairs," Mr Thakur told IANS in an interview ...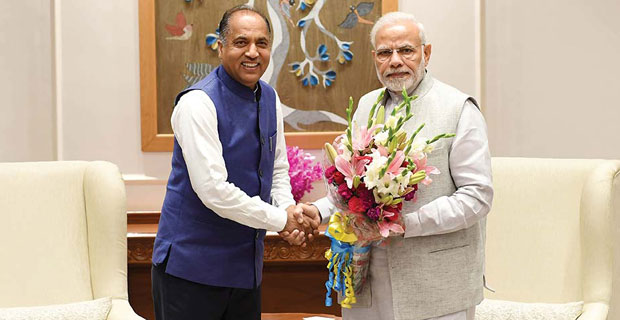 Mr Jai Ram Thakur called on Prime Minister Mr Narendra Modi at New Delhi
"I did not face any challenge as such during the last one year. But still the major concern before me has been to bring back the derailed economy of the state back on track and understand the developmental aspirations of the people. For this, I toured 65 (of the 68) assembly constituencies during this one year to understand the developmental needs. "I am sure that after a year in office now I am more clear and precise about the expectations of the people," he said.
The Himalayan state, whose hydropower generation as well as horticulture and tourism are major contributors to the economic development, is facing one of its worst financial crises - with its loan liability at nearly Rs 50,000 crore.
"We have inherited a loan burden of over Rs 46,500 crore from the previous government due to their financial mismanagement and mindless expenditure. Therefore, the biggest challenge before us was to bring back the derailed economy back on the track."
"It is true that due to limited financial resources of its own the state has to heavily depend on financial assistance and loans from the Centre and external funding agencies. Still soon after assuming the office in the state, the government took some concrete steps to stop wasteful and unproductive expenditure, besides striving hard to create its own resources for income generation," he added.