Editor's Desk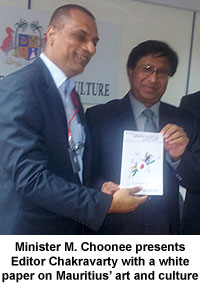 It started out as the "Great Experiment". Slavery had been abolished in Great Britain in 1833, and most of the freed slaves in British colonies were breathing the sweet air of freedom for the very first time. They no longer wished to slave their way in the plantations. This created a serious paucity of plantation workers, but the highly innovative British empire devised the Colonial Indentured System, a well-oiled global supply chain of contract workers from India that would work the sugarcane, rubber, tea and coffee plantations around the world. This supply chain allowed the plantation economies to prosper, and the empire's coffers to swell beyond all measure. The Great Experiment—as it was termed—of indentured labourers started in Mauritius in 1834, 180 years ago, and later on was replicated by the British in the plantation colonies of the mid-Atlantic and Pacific such as Demerara (modern day Guyana), Trinidad and Tobago, Jamaica, Fiji, and other places like South Africa, East Africa and Malaysia.
In late October and early November the Government of Mauritius led by its President, Prime Minister, Minister for Art and Culture, and Chairman of the Aapravasi Ghat Trust Fund along with several other senior ministers and officials and the public at large, celebrated the 180th year of arrival of indentured workers from India. India's Foreign and Overseas Affairs Minister, Mrs Sushma Swaraj, arrived in this southern Indian Ocean island nation to express solidarity on this occasion. A strong media contingent also arrived from different countries, including India, Reunion Islands, South Africa, U.K., Sri Lanka, Singapore, Belgium, France. Of course the local Mauritian media was at hand.
Mauritius today is a nation that is governed by the largely Francophone descendants of those indentured workers who left their motherland and sailed into the unknown in search of a better future. On arrival, the indentured workers would disembark from the ships and climb the steps at the Aapravasi Ghat, now a World Heritage site. And then, batches of workers would be assigned plantations run by French owners (the British allowed the French to run Mauritius under an agreement) in little villages where they would work, enabling the great indentured story to unfold, and last, until the second decade of the 20th century. We have moments from this commemorative event in our cover piece.
Also in our cover package is the Francophone Indian diaspora in France pieced together by Paris-born Christelle Gourdine Mandjiny. Christelle whose forefathers left India under the French indenture system and settled in Guadeloupe in the French West Indies says that "the people of Indian origin in France and French departments in the Atlantic and Indian oceans are now, more than ever before, willing to establish deeper contacts with India."
Happy reading.


(sayantanc@gmail.com)