Flowing from the Heart
In the fraternity of cardiologists in the USA, there is hardly anyone who does not know Dr Satinder Swaroop. Likewise, Satinder ...
A good head and a good heart are always a formidable combination.
—Nelson Mandela, Former South African President
In the fraternity of cardiologists in the USA, there is hardly anyone who does not know Dr Satinder Swaroop. Likewise, Satinder is immensely popular within the Indian-American community, and not just because he deals with matters of the heart.
Medical success and the numerous accolades and recognitions that have come his way, though, constitute only one part of his life. The other is that he is a practitioner of transcendental meditation (TM) for nearly 55 years. He was initiated into TM by Maharishi Mahesh Yogi, the Master who attained worldwide recognition as a spiritual guide to the Beatles. TM is a specific form of mantra meditation developed by Maharishi and is usually practiced between 15 and 20 minutes twice a day. Since 1965, TM has been incorporated in programs at certain schools, universities and corporations all over the world, including in the USA and India.
Satinder was in medical college in Srinagar, capital of Jammu and Kashmir, in 1961 when he came in contact with Maharishi. The initiation into TM was to transform his entire life, starting with the way he looked at the world outside, and the world within. When in the late 1990s Satinder's Master started the Maharishi Ayurveda Physician Organisation, he was among the first to become its member. Subsequently Maharishi sent him on a two-week, five-city tour of India. Among the cities he visited were Delhi, Mumbai, Chennai, Bangalore and Bhopal where he had the opportunity to address several medical associations. To the skeptical medical community those days, TM was the ultimate esoteric subject. But Satinder, himself a doctor, managed to break through the thick curtain of skepticism, and deftly introduced the subject to his audience, and it went straight into their heart. At the end of his tour, India's official TV channel, Doordarshan was excited enough to carry an interview with him.
At present, Satinder is a board member of both Brahmananda Saraswati Foundation and Brahmananda Saraswati Yagya Foundation. They are named after Swami Brahmanand Saraswati, Maharishi's Master.
ACADEMIC LIFE
Satinder is exceptionally qualified. Always keen to pursue medicine as a career, he secured admission at the Government Medical College in Srinagar, Jammu and Kashmir, after completing his Faculty in Science with first position from the Gandhi Memorial Science College, also in Jammu. He obtained his MBBS degree in 1965 and then moved to Delhi where he completed a residence in surgery from the Irwin Hospital in 1967. As he was eager to hone his skills in interventional cardiology he made up his mind to do further studies in the USA, and keep himself abreast with latest developments in the field. He was an intern at Saint Francis Hospital and Heart Center at Poughkeepsie in New York, a Resident in Medicine at Maryland General Hospital (now known as the University of Maryland Medical Center in Baltimore), Lemuel Shattuck Hospital, Tufts University Medical Services at the Boston City Hospital (all in Massachusetts). By 1970 he decided to move away from the cold of the American north east and left for California. He did fellowships with the UCLA Center for Health Sciences at the University of California at Los Angeles, and at the Wadsworth Veterans Administration Hospital, also in the same city.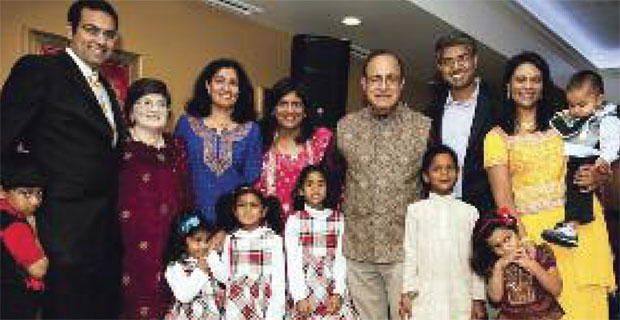 He has held several faculty positions like Teaching Fellow at the Tufts University Medical School in Massachusetts (July 1969 to June 1970), Fellow in Cardiology at the UCLA Medical School (July 1970 to June 1972). At the University of Southern California (USC) School of Medicine in Los Angeles he has been Clinical Instructor in Medicine (July 1973 to June 1974), Clinical Assistant Professor of Medicine (July 1974 to June 1977). At the University of California at Irvine (UCI) School of Medicine he has been Clinical Associate Professor of Medicine (November 2006 to May 2009) and Clinical Professor of Medicine since May 2009. Besides, he has been teaching medical students from the Midwestern University Arizona College of Osteopathic Medicine since January 2011.
PROFESSIONAL LIFE
Between July 1972 and July 1976 he worked with the City of Hope Medical Center at Duarte where he served in various capacities—Staff Cardiologist, Senior Cardiologist, Chief Cardiac Catherization Lab, Project Director, Hypertension Control Program.
In January 1977 he branched out on his own, and set up the Swaroop Medical Corporation at Warner Avenue in Fountain Valley. He remains its president till date. At the same time he holds several responsibilities with the Fountain Valley Regional Hospital and Medical Center (FVRMC) on Euclid Street, barely a 10-minute walk from where he is. At the FVRMC he's held positions such as Member-Board of Directors, Chief-Critical Care Unit, Director-Cardiac Catheterization Lab, Chairman-Interdisciplinary Practice, Chairman-Department of Medicine, Chairman-Cardiology Sub-division, Director-Cardiology Rehabilitation, Chairman-Department of Cardiology, Director-Partnership for Change and Commitment to Quality, Chairman-Quality of Patient Care Committee, and Chief of Staff.
He also is a Fellow American College of Cardiology, Fellow American College of Physicians, Fellow American College of Angiology, Fellow American Association for the Advancement of Science, Fellow American College of International Physicians, Fellow American Society for Cardiovascular Angiography and Interventions, and a Member of American Heart Association.
AWARDS AND RECOGNITIONS
Several honors and recognitions have come his way. He received the Physicians Recognition Award from the American Medical Association on five occasions—1970, 1974, 1978, 1997, and 2001. He received the California Medical Association Certification in CME three times—1992, 1996, and 2001. He was Physician Champion Award at the FVRMC twice in a row, in 2003 and 2004. He received a series of Special Awards—from the City of Anaheim (2007), United States Congress (2007 and 2008), California State Senate (2007 and 2008), California State Assembly (2007 and 2008), and Board of Supervisors Orange County (2007 and 2008). In 2009 he was decorated with the Ethnic Physician of the Year Award by the California Medical Association. And then five years in a row, between 2010 and 2015, the Orange County Medical Association bestowed on him the Physician of Excellence Award.
CIVIC POSITIONS
As a result of his brilliant professional and academic record, Satinder has held important positions such as President of the Orange County Medical Association, President of the American Association of Cardiologists of Indian Origin, Chairman Board of Trustees Indian Medical Association of Southern California among others. Satinder is married to Dr Venzila Swaroop, a pediatrician. Two of their children are physicians while one is an attorney practicing in California.
Through his distinguished academic and professional achievements, and his ability to balance his life out with TM, Satinder has proven Nelson Mandela right—that a good head and a good heart make for a truly formidable combination. From the book Indian Americans in Greater Los Angeles Area by India Empire Publications