"Hunger for client servicing keeps us on our toes"
MR. SAURABH AGARWAL MANAGING DIRECTOR, SKILLCUBE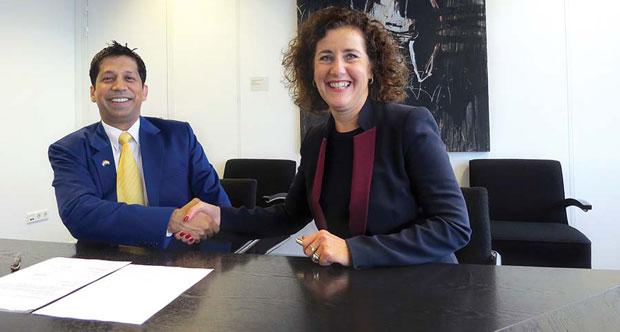 Founder and Managing Director Saurabh Agarwal of SkillCube and Deputy Mayor Ms Ingrid van Engelshoven of the City of The Hague, recently signed a partnership between this fast growing Indian startup and the Hague Security Delta, the largest security cluster in Europe
Can you provide an insight on the services offered by SkillCube?
Our services cut across the entire spectrum of cyber security domain:
Industry Readiness Programme (IRP): We run intensive boot camps for fresh talent who wish to kick start their career in the cyber security domain through international certifications, workshops, hand-on labs and industry orientation and make them job ready. It is a win-win for the hiring organizations as they get ready-to-be deployed talent as well as the individual as it creates an employment opportunity for them.
Trainings and Certifications: We provide off-the-shelf and tailor made programs on management standards including ISO 27001, ISO 31000, ISO 22301, ISO 20000, ITIL, OEM tool trainings and certification including GRC, SIEM, IAM, Security Analytics, VA-PT, Incident Management through different modes including classroom, web based, CBT and others.
Simulations: We offer a 1-day session on Cyber Security through a gamification workshop focusing on "action based learning". The workshop is a fantastic mix of participants including top management, business teams, security team and IT operations team where they experience the nuances of cyber security and how it could impact an organization.
Recruitments: We identify, screen and recruit talent across all cyber security job roles/levels in the shortest turnaround time with quality resumes and guaranteed SLAs. Our core area of expertise is Risk Management, GRC, Incident Management, Threat Intelligence, SOC, SIEM, VA-PT, Security Architecture, Identity and Access Management, SCADA and others.
Content Development: We offer customized services in spreading the security awareness through digital content including wallpapers, screen savers, emailers, posters, videos. Our content can also be integrated in existing LMS. We close loop the awareness piece by measuring the change in the employee behavior.