With Modi Visit, Indians Holding Their Heads High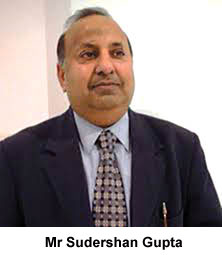 Indians in Australia are holding their heads high with the forthcoming visit of Prime Minister Modi, said Melbourne auditor Sudershan "Shan" Gupta in an exclusive interview.
"Ever since Modi took over as Prime Minister and started his action plans, India's respect has gone up many times here," he said. Indians are no longer taken as weaklings from a poor country but part of a new power in Asia to counter China. Previously, Indians were thought as zero; now they are something; their respect is fast increasing here, he said.
Some Australians believe that India is likely to overtake China because of its strong growth while China has slacked. The new image here is that India is unstoppable! For the first time, all Australian state and federal government assemblies were lighted up for Diwali, he said.
The benchmark for Modi's reception abroad is his recent visit to USA and Australia may find it difficult to match it, as it is a small country with a very small Indian population. An Indian prime minister is visiting Australia after 28 years. In a unique honour, Modi will address both the Australian houses of parliament which is very rare for any head of state visiting Australia, he went on. Big plans are being made in Sydney and Melbourne to host him. In Sydney, he will hold a rally on the lines of his New York Madison Square Garden rally. In Melbourne, a dinner party of one thousand celebrities will be held in the Melbourne Cricket Club in his honour. His visit to Melbourne is important for local politicians to get Indian votes in the state elections coming on 29 November and so they will go out of their way to welcome him, said Gupta.
An indication of India's new respect in Australia is that no adverse comment has been made about the criticism of Chappell by Tendulkar despite all media highlighting this news, he added.
"Australia needs India more than India needs Australia," believes Gupta. This is to have an alternative to cheap Chinese goods and Chinese domination in Asia. Modi has countered China since he took over by hosting a visit of its head of state and also standing up to its border incursions. What has impressed Australians was the rescue of Indians stranded in Iraq soon after he took over, very much like an Israeli mission.
The agreement for the supply of uranium signed by the Australian prime minister during his recent visit to India is a good step but it will take another three years before India gets the first consignment due to various formalities, he said. Indian companies are exploring for oil in Australia but Australian investors still shy away from India as many have not reaped success due to red tape and corruption. Now Modi has to convince them that things are improving under his rule and attract more investment. Modi is expected to promote his famous 3Ds – demography, demand and democracy – for promoting investment into India. With the new 'Make It in India' campaign, he will also claim that red tape is a thing of the past.
India can benefit a great deal from Australian technology in many fields such as agriculture in dry areas, water management, and medicine to name a few.
"With Modi's visit," said Gupta, "Indo-Australian relations are in for a big push."