US WEST COAST DIASPORA MEETS MINISTER GADKARI AT L.A. HARBOUR
Indian American Community of Southern California hosted lunch at the La Espada Vessel "Harbor Breeze" Los Angeles Harbor for Nitin Gadkari, India's Minister of Transportation and Shipping and Ambassador Venkatesan Ashok, Consul General of India, San Francisco, on July 22, 2016. There were approximately 40 people on the boat including GOPIO Foundation Executive Trustee Inder Singh, GOPIO Treasurer Kewal Kanda, NFIA president Ashok Madan, GOPIO LA president Navin Gupta, several members of GOPIO – Rajinder Dhunna, Abdulgani Shaikh, Yash Singh, Sunny Chauhan, Ajmer Singh and many prominent members of the community, Harbhajan Samra, Sudip Gorakshakar, Satish Kanda, Nadadur Vardhan, Avadhesh and Uma Agrawal, to name a few. Some members of the local OFBJP, Roshan Khandpur, Malik Banda, Bala Palanisamy, Subbu Shanmugham, and Raj Walia, also attended the lunch.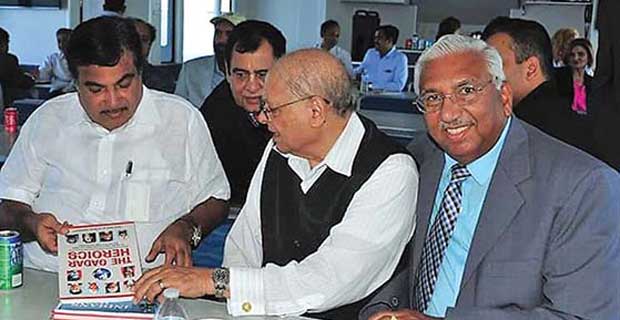 Mr Inder Singh presents copy of Gadar Heroics authored by him, along with books on Indian Americans and Global Indian Diaspora to Minister Gadkari. Also seen is Mr Kewal Kanda
The boat left the Harbor a little after 10:30 am for a tour of the Harbor. Prior to the boat tour, Mr. Gadkari met the representatives of the LA Harbor Port Authority and discussed matters relating to shipping and transportation. Mr. Gadkari also chatted with the local community business leaders who presented him some plans to do business with India. Besides sight-seeing at the LA Harbor, Mr. Gadkari and community leaders enjoyed the interaction with each other. Mr. Gadkari was thankful for arranging this short boat tour where he was able to meet the community leaders. Ashoka the Great Restaurant served the lunch on the boat.
After the lunch, Inder Singh, Kewal Kanda, and Ashok Madan presented Mr. Gadkari a book on Global Indian Diaspora, a book on Gadar Heroics, and compilation of articles, Indians in America by Inder Singh. From the Harbor, the minister went to Los Angeles airport for his flight back to India.