"In upcoming state elections, we'll talk of replicating Delhi model"
Dr Sushil Gupta, MP and Chief Whip Aam Aadmi Party, Rajya Sabha, is an eminent educationist, agriculturist and social worker. His educational institutions serve well over 15,000 students across Delhi and Haryana, and the Maharaja Agrasen hospitals that he has set up in Delhi serve thousands of patients every year. He is a noted philanthropist and his charitable works have earned him widespread respect. He speaks with India Empire on his philosophy behind joining the AAP, and his own vision for the party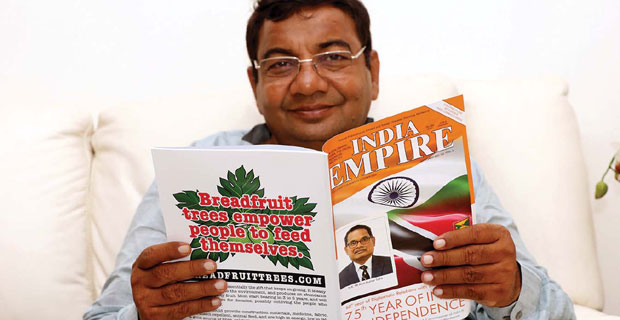 On forthcoming state elections
The party will contest in all upcoming state elections including those in Punjab, Gujarat, Uttar Pradesh, Uttarakhand, Goa. We'd talk about what we've been able to do in Delhi, and why the people of the national capital have given us an overwhelming mandate to run the state Government once again.
On work in Delhi
We have, for example, put up CCTV cameras all over Delhi, they have improved the security climate of the state. Delhi is also the only state where up to 200 units of electricity are free, while up to 400 units are available at half rate. It is the only state that has made available free passage on public buses to all women. Admissions in schools and colleges in Delhi are far easier now for local students as well as those from neighboring states. Our schools now boast of Astroturf grounds, swimming pools, state-of-the-art laboratories. I'd say we've even bettered private schools in many of these areas. People are not hesitant like before in sending their wards to Government schools and colleges.
Insofar as healthcare is concerned, we've been able to create an ambience that Government hospitals can work well and efficiently. The old concepts that they were mismanaged and unkempt have been done away with it. We spend 26 percent of our budget on education, and 13 percent on healthcare.
On the constant struggle against the central Government
Through the Lt Governor many impediments have been created. Even services have been snatched away from us, in spite of a constitutional bench judgment of the Supreme Court. The municipal officers who are meant to serve the people of Delhi do not answer to us, but work only when directed by the central Government. How do you expect us to improve centre-state relations? Why is the federal structure being dishonored?
Wherever you have opposition Governments in states, the same tactics are deployed. Either they are trying to break the opposition or lure away MLAs. If that does not happen, other methods such as filing of cases by central enforcement agencies are carried out. This is a pan-India phenomenon which is playing out repeatedly.
Now we'd have expected the LG who's served in ministries that require constant coordination between central and state Governments to work in harmony with us. Instead, an adversarial position has been adopted to disrupt our functioning.