"5G milestone has been achieved under PM Narendra Modi's leadership"
Mr Ashwini Vaishnaw is the Indian Federal Minister for Railways, Communications, Electronics and Information Technology since July 2021. He'd started out as a civil servant (IAS) in 1994 and quit the service in 2010, but not before taking a sabbatical to complete his MBA from the Wharton School at the University of Pennsylvania. Subsequently, he took up private sector assignments including as managing director of GE Transportation in India, and Vice President-Locomotives and Head of Urban Infrastructure at Siemens. While with the Government, he'd also worked as deputy chairman, Mormugao Port Trust. He, therefore, brings in wide experience from both public and private sectors. He responded to questions from India Empire's Editor and Publisher Sayantan Chakravarty on a range of subjects encompassing the ministries under his charge. PICTURE BY: SIPRA DAS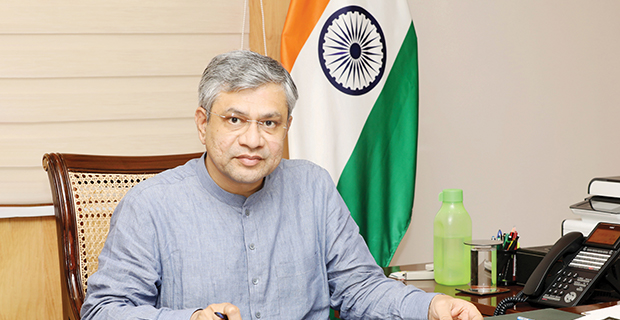 Do you think this bill will face opposition?
We have received some very positive feedback about the bill. People have appreciated the clarity and the simple language and ample illustrations in the draft bill. A few concerns have been raised. We will try and address this to the best possible level. We have requested all stakeholders to analyze the bill and share remarks and recommendations critically.
When do you think the Telecom Bill and the Personal Data Protection bill will be tabled in Parliament?
Based on the consultation process that is going on, we will create a final draft of the Telecom Bill 2022. That draft will go through committee processes in Parliament and then be tabled in Parliament. A roughly estimated timeline will be 6-10 months.
For the Personal Data Protection Bill, we are working at a good pace. We are targeting it should be tabled by the coming Budget Session.
The Telecom industry now seems in better shape from what it was until some time back. Do you plan to bring more reforms to improve it further?
Reforms are a continuous process in this government. Thanks to the series of telecom reforms undertaken in the last one year, there is a lot of certainty and clarity now. The sector is more or less out of the legacy issues which were holding it back. There is optimism about the sector and it is well on its way to become a sunrise sector of the economy.