Editor's Desk
Cuba, set at the crossroads of Western and Latin cultures, has a lot going for it. The biggest Caribbean nation in terms of area, and the third largest in terms of population, Cuba has an abundant and rich tapestry of music, cuisine, dance, beaches, art and craft. Geopolitically, its uniqueness has stood the test of time. It is steeped in history, a storied past that is the stuff movies are made of. Cuba is poised to grow very fast—and as a large Indian contingent discovered in October 2023—is opening up its economy to investors. Courtesy the Cuban Embassy in Delhi, our visit was facilitated by MGM Muthu Hotels in partnership with the Cuban Government, Gaviota Tours and Cubanacan.
One of the most eye-catching places in Cuba is the Sabana-Camagüey archipelago that runs on a north-west to south-east axis for about 475 km, north of the provinces of Matanzas, Villa Clara, Sancti Spíritus, Ciego de Ávila and Camagüey. To its north is the Atlantic Ocean, specifically the Nicholas Channel in the Sabana segment and the Old Bahama Channel in the Camagüey segment. The entire archipelago is dotted with small islands that are popularly called Cayos, adapted from the Taíno word Cayo into the Spanish language. The pièce de résistance of the Sabana-Camagüey is the exquisite and pleasing Jardines Del Rey (King's Garden) archipelago that stretches for about 200 km and is home to Cayo Guillermo and Cayo Coco islands, connected to one another through a short bridge.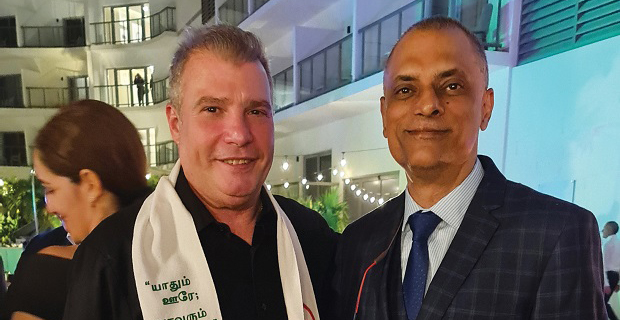 Editor Chakravarty with Cuba's Tourism Minister Juan Carlos Garcia Granda in Havana in October 2023
About five to six thousand years back, Cuba and the rest of the Greater Antilles belonged to the First Nations people, mainly the Taíno. In a way, the Taíno were the first people to greet Christopher Columbus. Little did they know then that their destiny would be completely rewritten in times to come by the Spanish Conquistadors.
The distance between Cuba's two largest cities—Havana with a population of 2.1 million, and Santiago de Cuba with another 1.04 million—is over 850 km. That mainly explains a rather low population density of 105 people per sq km (little higher than the population density of Sikkim state in India), in a nation with an overall land area of 109,884 sq km (a little less than the size of Telangana state in India).
With a population size of 11.19 million (close to that of Uttarakhand state in India), spread across 15 provinces, Cuba, is, according to UN 2023 estimates, the third largest inhabited island in the Caribbean after neighboring Haiti (11.72 million) and Dominican Republic (11.33 million). The latter two together were once known as Hispaniola, and provided the naval and logistics base for Spanish expansion into Cuba, and the rest of the Caribbean, Mexico, Central and Latin America. It is in Hispaniola that Columbus landed in 1492.
In 2006, after a 45-year stay at the helm, Fidel Castro retired as Cuba's President and his brother, Raúl Castro, was elected his successor as Cuban President. In 2018, Miguel Díaz-Canel was elected president and later re-elected in 2023 for a second term. Castro had visited India twice in 1973 and 1983. His friend and comrade in the Cuban Revolution, Argentina born and bred Ernesto Che Guevara, a medical doctor, was Cuba's Minister for Industries when he visited New Delhi and Kolkata in June 1959. Among others, Che met with Prime Minister Jawaharlal Nehru, whose works he was familiar with as a student of world affairs. Both Castro and Che are legendary world figures, with the latter being named by Time magazine as one of the 100 most important people of the 20th century.
At a press meet at the Grand Muthu Havana Hotel on October 26, Cuba's Tourism Minister Juan Carlos Garcia Granda responding to a question from INDIA EMPIRE emphasized: "We are committed to bringing in tourists from India to Cuba. You need a tourist card to come into Cuba, and these are sold at our embassies and consulates worldwide. We are also looking to offer high quality Indian cuisine in Cuba. I believe the Muthu Group will play an increasing role in enhancing tourism into Cuba from not just India, but also from the Indian Diaspora that resides in the United States."
Please do read the engaging interview with Ambassador Alejandro Simancas Marin, Cuba's envoy in Delhi. We hope you like this special issue on Cuba.
Sayantan Chakravarty
sayantanc@gmail.com