Discover Thainess
An insight into the exotic land of Thailand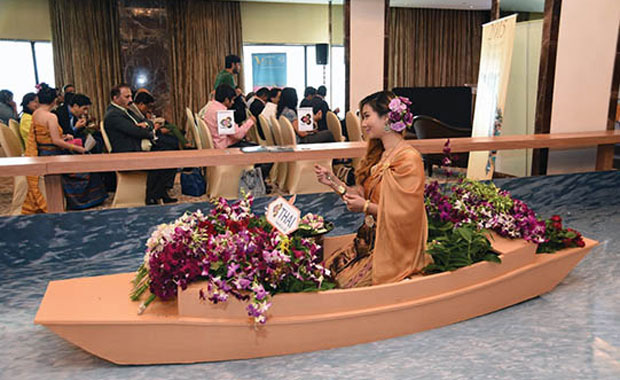 Thainess can be found in many events and festivals of Thailand more of which are celebrated in the Thai traditions and cultural values for hundreds of years. Some of the important calendar events include The opening ceremony of 2015 discover Thainess in January, Golden Kingship Celebration in February, Muay Thai festival in March, Songkran splendours in April, Thailand Music Festival in May, Thailand Grand Sale Festival in June, Asean Festival in July, Queen of Silk Festival in August, Thailand International Food Festival in September, Thailand Time Trial in October, Loi Krathong Festival in November and Royal Melody in December. The art of rejuvenation and curing is an integral part of Thai culture from organic Thai therapies to traditional Thai massage the reach of health and wellness in Thailand is definitely outstanding.
As for gastronomy tourism Thai food is meant to be enjoying with friends and family in lively atmosphere. "Thai's enjoy making and eating good food like you and that is why going to Thailand can be an exciting culinary experience as well as a great holiday," said Her Excellency. There are affordable street food stalls open throughout day and night. Traditional favourites like sticky rice with sugar and coconut cream along with the fusion food makes Thailand Asia's best 50 destination.
"India is among the top three spenders in Thailand. Over the last few years, the expenditure has risen to 40,000 Thai Baht per person per trip which was earlier 38,000 Thai Baht earlier," said her Excellency. Muay Thai or Thai boxing is the national sport of Thailand which has now become one of the most popularising sports in the world. Recently, tourism authority of Thailand has appointed famous Indian award winning female boxing champion Ms Mary Kom to be the Thai Boxing Ambassador. Apart from that bike tours and bike events are booming in Thailand. "To promote bicycling in Thailand we are now offering bike guides, bike airline, bike trains you can carry your bike everywhere" said her Excellency.
The '12 hidden Gems' of the Thainess campaign include serene Lampang; Phetchabun with its mist-shrouded mountains of flowers; Nan—The most romantic province in Thailand, Buriram—Blend of ancient Khmer and modern Thai civilisations; Loei—A place for mountain reveling; Samut Songkhram—Witnessing the glory of mighty rivers; Ratchaburi—The arts capital; Trat—The islands of dreams; Chanthaburi—The fruit capital; Trang—All things exotic (even underwater weddings!); Chumphon—Untouched emerald isles and Nakhon Si Thammarat—Unspoiled nature combined with distinct religiousness.
Thailand is also well known as family destination as the entertainment water theme park at Pattaya in October 2014 attracted more family tourists. Her Excellency further added, "Recently safari world theme park has announced new project to develop and attract new clients and facilities in Phuket." Rich cultural and spiritual Thailand is famous for its temples, golden beaches and vibrant night life which is targeting special interest groups like golfers, divers and bikers, weddings and honeymooners, women travelers and Meetings Incentive Conference Exhibition (MICE) business from India.