Yuba City—the Mini Punjab in USA
Yuba City, the headquarters of Sutter County, California, is about 125 miles from San Francisco. Punjabis came to Yuba City as migrant laborers in search of work over 100 years ago and faced enormous social and economic hurdles. They were peasant proprietors in India and their farming skills and willingness to work hard helped them find work. Some of them even leased or purchased their own farms and a few became successful and prosperous farmers.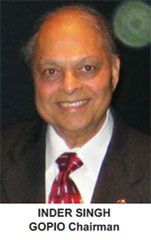 From 1917 to 1946, legal immigration from India was barred and the growth of the Punjabi population in the Yuba-Sutter Area dwindled to a trickle. In 1946, Indian nationals got the right of citizenship. The law allowed 100 immigrants to come annually from India and thus slow growth of Punjabis started again. However, after the passage of 1965 Immigration Act, the Punjabi population in Yuba-Sutter Area started growing steadily and today, Punjabi community population is probably the largest over any other similar city in the United States. Punjabis now comprise over 10% of the total population of about 80,000 in Yuba-Sutter area. Several of them are engaged in agricultural or horticultural activities. In Yuba-Sutter County, Punjabi farmers grow about 95% of the peach crop, 60% of prunes and 20% almonds & walnuts.
With the sizeable increase in their population, the community has diversified from the core business of farming into various occupations, businesses and professions. Many Punjabis have become successful entrepreneurs, venturing into trucking, commercial property, and various other businesses and contribute significantly to their local economy. Several with university degrees have gone into various professions — medicine, teaching, banking, engineering, etc. A number of prosperous Punjabis in the city own palatial houses and drive expensive cars. They endured tremendous hardships and worked very hard to realize their American Dream.
Many Sikhs have retained the distinguishing marks of their faith. They have invariably added to the ethnic and cultural diversity of America and have become part of the unique and distinctive multicultural character of the new society. They have contributed to the development of the region's economy at all levels and reshaped the landscape of the cities and towns where they have their homes
Yuba City is literally a mini Punjab in the USA with three Gurdwaras and a temple. "Sat Sri Akal" is the preferred form of greeting; speaking in Punjabi is not considered "foreign" and Punjabi is officially taught in public schools. A radio program in Punjabi is regularly on the air. The Punjabi American Festival (Baisakhi) is organized every year in May by the Punjabi American Heritage Society which was founded by Dr. Jasbir Singh Kang in 1993 to help the younger generation get connected to their roots. The annual event features some internationally acclaimed artists and hundreds of local artists, including students from California schools, colleges and universities, who perform traditional Punjabi dances such as Bhangra, Giddha, Jhumar, and other ethnic dances. The ticketed event attracts over 12,000 people and is aimed at promoting a better understanding of the Punjabi community, its culture, and the many contributions they make to the region. Many business owners rent display booths to put themselves in front of the prospective customers.