A MARKET PLACE WITH A DIFERENCE
The 8th OIFC Market Place—a meeting platform for Overseas Indian community, Indian policy makers and businesses
The 8th Market Place Forum organized by Overseas Indian Facilitation Centre (OIFC)—a public private partnership between the Ministry of Overseas Indian Affairs and Confederation of Indian Industry—concluded recently in New Delhi. Organised at the 12th Pravasi Bharatiya Divas which took place between January 7 and 9, 2014, the OIFC Market Place was inaugurated by Shri Vayalar Ravi, Minister for Overseas Indian Affairs, Government of India.
The Market Place Forum is set to create unique opportunities to build relationships between OIFC's State and Knowledge Partners and PBD delegates in a relaxed environment conducive for business discussions. These meetings have proven to be extremely beneficial for the delegates comprising of NRIs (Non Resident Indian) and PIOs (Person of Indian Origin) and have helped match buyers and suppliers.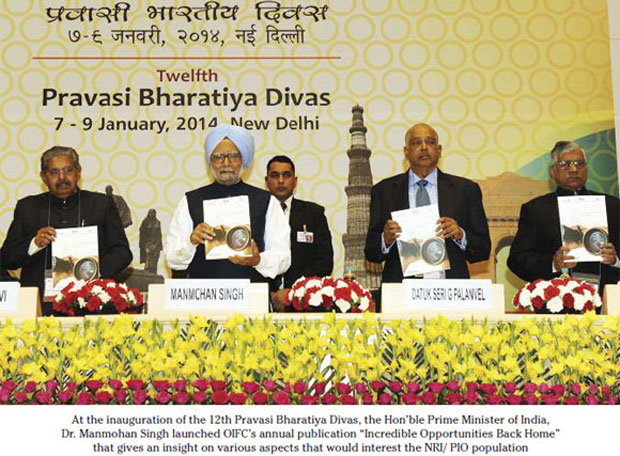 OIFC's constant endeavour is to bridge the gap between the diaspora community and the country, thus helping them link back to their roots and the processes associated to make these linkages happen. Keeping in line with the theme of this year's PBD, OIFC focused on engaging with the Diaspora and connecting across generations by way of networking for economic engagement. The three-day Forum had a footfall of 700 visitors. It consisted of:
A series of pre-scheduled appointments for B2B meetings with numerous networking opportunities to do business and exchange ideas for the PBD delegates and OIFC Partners. The participants included
I. OIFC State Partners from the Governments of Bihar, Gujarat, Haryana, Jharkhand, Kerala, Maharashtra, Punjab & Rajasthan.
II. OIFC Knowledge Partners like Axis bank, IL&FS Trust Company Limited, Kotak Mahindra Bank Ltd, Life Insurance Corporation of India, UCO Bank, Yes Bank, Ezy Laws and Small Industries Development Bank of India
Presentation by OIFC Knowledge Partners on Taxation, Market Entry, NRI Banking etc. providing valuable insights to the visiting diaspora.
OIFC Talks Series were conducted to showcase interviews with thought leaders, eminent Overseas Indians, senior professionals etc around the world. These interviews help to guide and inspire the community to get involved in the network. Through these talks, these leaders spoke about their struggles, re-inventions, innovations and strides against all odds to be where they are today. Through these series of webisodes, OIFC explores how the Indian diaspora has empowered itself as an economically, socially, and intellectually well connected community both in its host country and globally.
VIP visits: The Pavilion was visited by prominent NRIs such Dr. Renu Khator, Chancellor and President, University of Houston; Mr. Neville Roach, Chairman Advisory Board, Tata Consultancy Group; Dr Satya Vrat Sharma MBE, Chair, India UK forum & Vice Chair, BMA regional council W.Mids; Ms. Ela Gandhi, peace activist and granddaughter of Mahatma Gandhi; Mr. Yusuffali, Managing Director, EMKE LuLu Group of companies; Drs. Rajindre Tewari, Managing Director of Capital Investors Intl. & Managing Partner of Mahler Fund Management (Emerging Markets Investments). Visitors from Government included Shri Naveen Varma, Principal Secretary, Department of Industries, Government of Bihar; Shri Vinod Ajmera - Commissioner, Rajasthan Foundation and Managing Director, Rajasthan Tourism Development Corporation Ltd; Shri P. Sudeep, Director and CEO, NORKA Roots, Kerala and Shri Salil Narang – General Manager, Investment Promotion Center and Additional General Manager HSIIDC, Haryana.