Candlelight for victims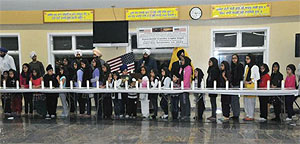 "The vigil has been organized to show solidarity with American families against senseless violence and to honor the little angels, 6 to 7 year old school children and heroes, the teachers of Sandy Hook Elementary," said Rajinder Singh Mago. He was speaking as a coordinator at the interfaith prayer and candlelight vigil organised at the Gurmat School of Sikh Religious Society, Palatine for the victims of Sandy Hook Elementary School tragedy. The observance took place on December 14, 2013.
The tragedy of Sandy Hook Elementary School, Newtown, Connecticut took place on December 14, 2012 where 20 first grade children and 6 adults were killed. Twenty-year-old Adam Lanza had forced his way into the elementary school with his assault weapons and started shooting to kill children and teachers. The school principal and psychologist had jumped on the gunman to stop him and sacrificed their own lives for the sake the school kids. Victoria Soto, 27 another heroic teacher gave her life to save the lives of her class children whom she hid in the closets and bathroom. Other teachers had also shielded the young students by putting their own body in front of the bullets.
Another grave shooting incident at the Wisconsin Sikh temple was also recalled at the vigil. It was a mass shooting incident that took place on August 5, 2012. In the episode, Wade Michael Page had gravely shot six people and wounded four others at a Sikh temple in Oak Creek, Wisconsin. Following the killing, Page took his own life by shooting himself in the head after he was shot by a responding police officer.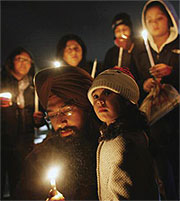 Retired Lieutenant Brian Murphy the Hero of Oak Creek Wisconsin Police Department, the first responder to the Oak Creek Wisconsin Sikh Temple Shootings who took 15 bullets was a Special guest speaker. He was honoured with a public service and bravery award plaque by the SRS president Mr. Sokhi Singh and other SRS board members. He was also given a head wear of honor (SiroPao) by Bhai Gurjant Singh and a gift check by the SRS board on behalf of the community. "It was a beautiful ceremony and it is wonderful what SRS as a community were able to do for Lt. Brian Murphy," said Megan Nakano President of Japanese American Citizens League and chairperson of Asian American Coalition of Chicago who participated at the vigil.
The program at the Gurdwara congregation hall was conducted by Amrith Kaur Aakre, Assistant State's Attorney Cook County Illinois. The speakers who paid tributes to the victims included Kulwant Singh Hundal, Dr. Balwant Singh Hansra, Laddi Kaur Singh, Matt Flamm, Marty Castro, Chairman Illinois Human Rights Commission, Illinois Governor Pat Quinn's office, Tom Choi, Illinois Comptroller Judi Baar Topinka's Public Affairs Manager, Pastor Jeffrey, Church of Christ, Dr. Mary Nelson, Executive Director, Council for a Parliament of World's Religions and Retired Lieutenant Brian Murphy, Oak Creek Wisconsin Police Department, and SRS President Sokhi Singh. Steve Kim, Candidate for Illinois Lieutenant Governor was also a part of the observance.
Despite snow and bitter cold weather over three hundred community members, neighbours, interfaith leaders and government officials congregated in the Palatine Gurdwara. Keertan was performed by children from Wheaton Gurdwara and Palatine Gurdwara and Mrs. Kanchan Lal, Bhai Mohinder Singh and Bhai Gurjant Singh's Raagi Jathas were among the performers.
A special prayer "Ardaas" was done by Bhai Gurjant Singh, head granthi of Palatine Gurdwara to pray for the departed souls and their families to seek peace, harmony and love in this world which is burning with anger and hate.
After the prayers and tributes the whole congregation and guests assembled in the langar hall where candlelight vigil ceremony was held indoors due to snow and cold weather outside.
Maneshwar Singh, a community youth and Loyola University student conducted the proceedings. A moment of silence was held after which twenty six Gurmat School children walked in one by one, announcing the names of one of the twenty six kids killed in the shootings at Sandy Hook last year. All the twenty six children lit one candle each for the deceased. The pictures of each of the twenty six children were projected on two large screens while the candles were being lit for them. Everyone present in the assembly also lit candles in the memorial of 26 lives lost in futile violence creating a solemn ambiance. All the attendees' hearts were weighed down with sorrow.
The vigil was carried forward by langar, organised for the all the attendees. Everyone indulged in fellowship with conversations about what could be done to avoid such tragedies in the future. Gun control, background checks, mental issues and violent video games were the talking points of groups in the langar hall.
The event was coordinated by Rajinder Singh, Mago Sarwan Singh Raju, Amardev Singh, Jasvir Kaur, Birender Singh, teachers and volunteers of the SRS Sunday School.