Faleomavaega's Promising Remarks
In late July at the hearing on U.S.-India relations under the Modi Government, the first hearing held in the U.S. Congress since India's 2014 elections, Ranking Member Eni F. H. Faleomavaega released the following statement: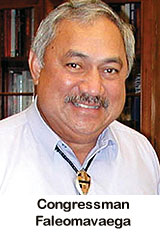 Mr. Chairman:
As Prime Minister Modi said, "Good days are coming."
I agree. I am grateful to Heavenly Father for good days – and good friends.
I would be remiss if I did not take this opportunity to personally thank you, Mr. Chairman, and Mr. Bera for your support, thoughts and prayers during my time of recovery. I also thank the Members of this Subcommittee as well as my colleagues in the U.S. House of Representatives.
I am grateful to each of you and very grateful to be back working with you on the important issues facing Asia and the Pacific. I believe together we still have a difference to make.
And so, I thank you for holding this important hearing at my request on U.S.-India relations under the Modi government.
History will remember India's 2014 elections as unprecedented. I will remember the 2014 elections as an epoch triumph because – on May 16, 2014 – in the most historic elections since India's independence – Shri Modi won India in a landslide victory that gave Shri Modi the most decisive mandate for an Indian Prime Minister in three decades despite the United States using every recourse it could to disrupt his destiny.
No doubt, Prime Minister Modi's destiny is to lift up the masses, assure social justice, and bring new hope for any and all who, like him, step forward and transform challenges into opportunities by sheer strength of character and courage
Prime Minister Modi's victory is India's victory. It is our victory, too, and I join with the people of India in celebrating a new dawn of development for all.
The U.S.-India partnership should be, could be, one of the most defining of the 21st century. While it is shameful that the United States failed to develop a strong friendship and comprehensive partnership with Shri Modi when it mattered most, I thank Prime Minister Modi for accepting President Obama's invitation to meet at the White House on September 30 of this year.
Prime Minister's willingness to put the past in the past is a testament to his track record of good governance. He is a selfless leader who puts India first.
In recognition of his visit to our Nation capital, I join with my colleagues in calling upon the House and Senate Leadership to invite Prime Minister Modi to address a Joint Session of the U.S. Congress. I commend the co-chairs of the House Caucus on India and Indian Americans and their counterparts in the Senate, and also Congressman Brad Sherman, Congressman Ami Bera, Mr. Sanjay Puri of the Alliance for U.S.-India Business (AUSIB), and all those who are working together for this purpose.
I also thank Mr. Puri for introducing me to Shri Modi in 2010. In 2010, Shri Modi was Chief Minister of Gujarat and I was Chairman of this Subcommittee. I flew to Gujarat to meet the Chief Minister at his residence. I knew then what I know now. Shri Modi is dedicated. He is determined. He is dynamic. He is different. He is the key player for improved relations between the U.S. and India.
Today he is the leader of the world's largest democracy, and I have every confidence he will cut across caste, creed and religion and bring alive the dreams of over a billion Indians, and a world that needs his leadership. As a man of vision and action, he, together with each and every citizen of India, will create something special – an India of sustainable development and inclusive growth and an India that will rightfully assume its place in the political and economic affairs of this world.
You can be assured Prime Minister Modi will usher in India's new era. And the U.S. would be wise to support his goals. India "will not threaten nor be intimidated by any country." India will deepen partnerships regionally and globally in areas of defense, nuclear energy, space research, and trade and investment. India will also invest heavily in infrastructure, affordable housing, healthcare, education, and clean energy.
India will advance the interests of the developing world and lead the way in establishing a new model for maintaining stability without constraining growth. Prime Minister Modi will devote it all to eradicate poverty.
Good days are coming – no matter the pundits and critics who have too long maligned Shri Modi and his supporters. And so, once more, I congratulate Shri Modi on his path-breaking campaign, and I praise BJP Party President Singh for working shoulder-to-shoulder with Shri Modi to ensure that the spirit of democracy has triumphed.
I also commend Mr. Sanjay Puri for championing the cause and work of Shri Modi in Congress at a time when others were not courageous enough, and for holding firm even though he was also unjustly and wrongly maligned.
Above all, I praise Prime Minister Modi. From his beginnings as a son of a tea seller to a ground-breaking victor, I wish Shri Modi every success on his poetic journey forward as the Prime Minister that the people of India have long-awaited.