Escape from Iraq
History is academic, but its lessons are revealing. History tells us that Iraq—home once to an ancient civilization that boasted the Hanging Gardens of Babylon—is yet again a modern day burning battlefield, a nation that has failed to learn from its hoary past. Over most of the second half of the 20th century and the first decade of the 21st it has remained on the boil, and turned into one of the most hostile war zones anywhere in the world.
Once more it is doing that reputation no harm. The crops of peace have dried up, and fresh harvests of conflict have arrived, and the Indians who have lived and worked there are finding out again how easily Iraq goes up in smoke, and threatens to stay that way for years. So, slowly, surely, but unwillingly, they are leaving their lives in Iraq behind, and making their way back to India. Some are escaping, others are simply being helped to leave.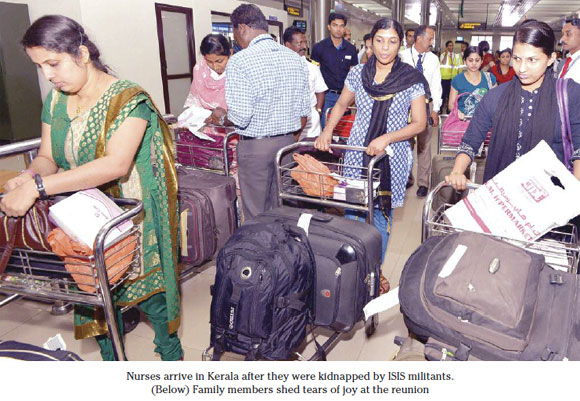 The crisis in Iraq is a clear and present danger to the rest of the world, for it has been triggered by a new outfit—the ISIS, a breakaway faction of the Al-Qaeda—that is out to overthrow the weak Iraqi Government by all means of force. Nearly 10,000 Indians have been affected, 4,000 of whom have made their way back to India, but not before some like medical nurses from Kerala had a scary and harrowing experience of being kidnapped by the ISIS rebels. Much of the credit for the safe return of the 4,000 Indians must go to the prolonged and quick negotiations held by the Ministry of External Affairs and the Ministry of Overseas Indian Affairs—both headed by Mrs Sushma Swaraj—with counterparts in the Gulf countries to pressurize the rebels to ensure safe passage for the Indian nationals back home. The Prime Minister's Office has also stepped in to making security assessments and carry out covert negotiations with authorities, whenever necessary.

The ISIS is an active militant group in Iraq and Syria. The group aspires to bring much of the Muslim-dominated regions of the world under its direct control. They want control over the Levant—an area that includes Jordan, Israel, Palestine, Lebanon, Kuwait, Cyprus and southern Turkey. It came into prominence in January when it took over Fallujah and was recognized as a terrorist group by Washington. It is led by Abu Bakr al-Baghdadi.
IRAQ—DOWN THE AGES
Babylon is the most famous city of ancient Mesopotamia, cited by Herodotus as one of the 7 wonders of the Ancient World (it is no longer on that list) because of its man-made terraces of flora and fauna. Its ruins are located about 90 km away from the Iraqi capital of Baghdad. The Hanging Gardens of Babylon were raised by Nebuchadnezzar II, king of the neo-Babylonian empire, 2,500 years ago. But the ancient city's glory did not last very long, even though its legend did. Waves of invaders from neighbouring states, including Persia, ensured that the city went into rapid decline.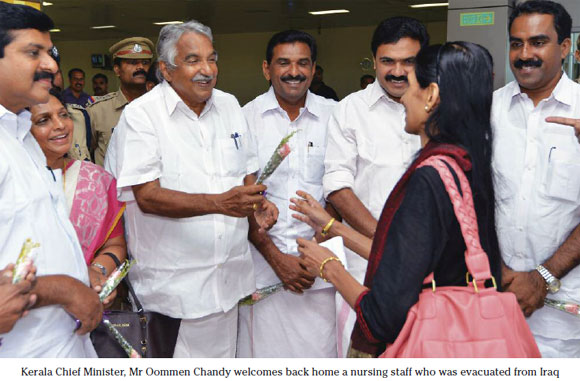 At the height of his powers, Saddam Hussein who ruled modern day Iraq and initiated many wars with his neighbours Iran and Kuwait, began reconstructing the 600-room palace of Nebuchadnezzar II. He wanted to be known as the protector of Iraq, but his end at the hands of the USA didn't ensure that lasting legacy. The bricks hastily laid by Hussein's workers began to crack up in less than 10 years time. Saddam's fall from power ushered in plunderers into the refurbished palace who stripped away the interiors and upholstery, decimated the glass windows and generally laid waste to the place.
Between 1980 and 1988, territorial disputes with Iran led to an inconclusive and costly 8-year war. It devastated the economy. Many Indians were affected at the time, and world oil prices had gone up sharply as both Iraq and Iran went to war. Another long-standing territorial dispute led to the invasion of Kuwait in 1990, known more as the Persian Gulf War. Hussein, during his reign as President of Iraq and Chairman of the Revolutionary Command Council between 1979 and 2003 oversaw both wars.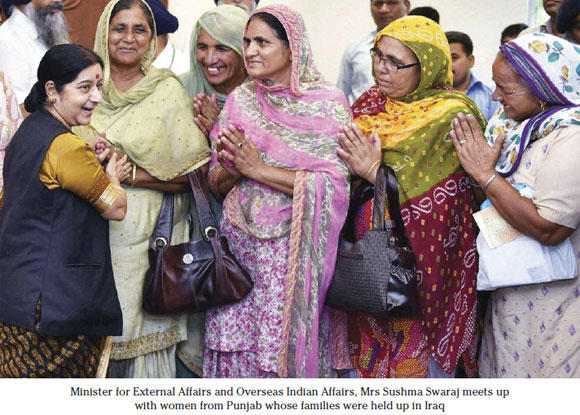 Hussein was deposed following the 2003 US-led invasion of the country. Following the invasion, the situation deteriorated to the extent that in 2006–2007, Iraq was on the brink of civil war. Conditions did, however, improve after U.S. troops were sent to Iraq in 2007–2008, and the war was declared formally over in December 2011, with the U.S. troops leaving the country. But the pullout has evidently not helped, and now a well-prepared and well-equipped ISIS is taking full advantage of Iraq's weak army.
INDIAN HISTORY IN IRAQ
Indians have had strong links with Iraq since the 15 century. During the last century, Indians worked in large numbers to build the country now destroyed by wars. Indians went to Iraq for pilgrimage and stayed on. After Iraq's independence in 1932, their descendants assimilated in the country and acquired Iraqi nationality. They lived mainly in Karbala, Najaf and Baghdad and ventured into business. Before World War II, British rulers sent them to build roads, railways, waterways and postal services. They also worked as accountants, clerks and technicians. With the discovery of oil in 1960s, Iraq embarked on massive construction projects and Indian companies won lucrative contracts in infrastructure projects and thus Indian professionals and workers went in thousands in 1970s. The well-established Indians set up businesses and recruited more Indians to work for them.
Saddam Hussein took power on July 16, 1979. He welcomed Indians as he felt they had valuable contribution to make to Iraq. In the 1980s, Indians peaked at an estimated 80,000 in Iraq. Generally, Indians were treated well under the Saddam regime but like any other Middle East country, they had to comply with the laws of the land and ensure a trouble-free stay. Indians, who qualified, were allowed to take up Iraqi nationality.
They got jobs as truck drivers, low-level administrators and labourers with the US and British coalition forces. The new wave of Indians is largely construction labourers, nurses, engineers, missionaries and charity workers mostly from Punjab and Kerala, but also from Andhra Pradesh, Rajasthan and Maharashtra. They went to Iraq chasing new opportunities and fortunes as the country was rising from the ruins of war and reconstruction was going on with foreign and local money. They went where they found jobs: Baghdad, Tikrit (Dictator Saddam Hussein's birth place); Mosul, Erbil, Najaf, Basra, Karbala, among others.
ROLE OF THE INDIAN GOVERNMENT
After returning from Dhaka, Mrs Sushma Swaraj, spoke to Foreign Ministers of all the Gulf States, including Kuwait, Saudi Arabia, Bahrain, Qatar and the UAE, and met their representatives in India to enlist their support. "Till now I have managed to get 4,000 Indians safe and sound back from Iraq. Although I am worried about the 49 people who are still stranded there but we are trying everything possible to get them also back safe. We have been in touch with these people, not through direct sources and know that are safe and unharmed", Mrs Swaraj said. Delivering the Baleshwar Agrawal Memorial lecture in July at New Delhi's India International Centre, she said that "I want to lead the Ministry of Overseas Indian Affairs in a way that all the overseas Indian can count on. I want to make sure that we are behind every overseas Indian to support and back them up in case of problems."
Mrs Swaraj informed Parliament that 39 Indian workers held captive in the city of Mosul were safe, and being provided food and water. The Inter-Ministerial Standing Group for Repatriation of Indian Nationals from Abroad (IMSGRINA) has also put in place contingency plans for the safe and expeditious evacuation of Indians from Iraq. Special camps have been set up in Basra, Najaf, Karbala and the Indian mission's work in Baghdad has been strengthened with the reinforcement of 25 members. She also said that she briefed Prime Minister Mr Narendra Modi every evening on the situation in Iraq.
A meeting was held on June 25 by the Cabinet Secretary Ajit Seth in Delhi. In the meeting Air India, the Navy and the Shipping Secretary were directed to keep vessels on standby in case a mass evacuation of Indians from violence-torn Iraq was required. As reported by a national daily, the National Security Adviser Ajit Doval and Intelligence Bureau Director Asif Ibrahim were busy routing a secret diplomatic outreach to Baghdad and Riyadh. Their missions, which were kept secret at the time, were powered by phone calls from Mrs Swaraj to her counterparts in the region.
The Indian Government especially the Ministry of External Affairs has put in intensified efforts for the evacuation of stranded Indians in Iraq. The return of 4,000 Indians is a significant diplomatic victory for the Indian Government. But not to forget the other Indians that are still waiting to return home, Ministry of External Affairs will have to further gear up the efforts to evacuate them.
Once more, history is repeating itself. The conflict in Iraq is here to stay.
—with contributions from Shamlal Puri and Misha Singh.