Indians In USA
Recognition for Dr Chopra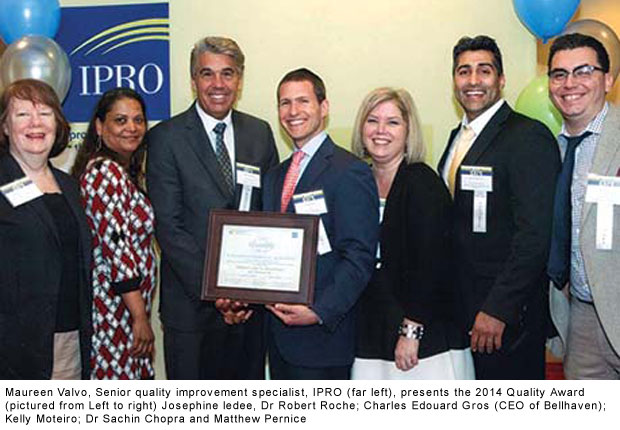 Bellhaven Center for Rehabilitation and Nursing Care (Brookhaven, NY) and Dr. Sachin Chopra have been recognized with a 2014 IPRO Quality Award. The awards, given annually by IPRO, recognize organizations and professionals that demonstrate a commitment to improving the quality of care provided to Medicare beneficiaries. IPRO is the Medicare Quality Improvement Organization (QIO) for New York State. The awards were given during IPRO's 30th Annual Meeting at the Marriot Hotel in New York.
Focusing on proactive prevention and management processes, Dr. Sachin Chopra lead the medical wound care team and was successful in its quality improvement journey, and recognized by IPRO for its exemplary performance: significantly reducing the rates of high-risk pressure ulcers for its residents by 59.8 per cent. IPRO is a national organization that provides a full spectrum of healthcare assessment and improvement services that foster more efficient use of resources and enhance healthcare quality to achieve better patient outcomes.
Dr Sachin Chopra is a graduate of Cornell University, New York Medical College, and NYCOM. He was awarded the prestigious "Resident of the Year" Award at the Long Island Jewish/ North Shore Health System at Plainview; and was also honored by the New York State Assembly and the New York State Senate for medical care helping the critical care of underserved populations. He currently is on the Medical Board of St. Joseph's Hospital and Nursing Home.
Chopra thanked his family and colleagues, and said he was honored to be a part of the medical team that is dedicated to patient care.