Born to spell
Two Indian American students have jointly won the 2015 Scripps National Spelling Bee competition successfully negotiating the words "scherenschnitte" and "nunatak" in a nail-biting final. Ms Vanya Shivashankar, 13, of Olathe, Kansas, and Mr Gokul Venkatachalam, 14, of Chesterfield, Missouri, were declared co-champions on the night of May 28, 2015
Ms Vanya correctly spelt "scherenschnitte"—meaning the art of cutting paper into decorative designs—and Gokul did likewise with "nunatak"—a hill or mountain completely surrounded by glacial ice. In this year's national championship, 285 spellers competed for the title. Ms Shivashankar and Mr Venkatachalam put both their hands on the trophy and thrust it into the air on May 28 evening—after spelling word after word that few people could even hope to pronounce correctly.
"This is the second year in a row that the final has yielded co-champions," Scripps National Spelling Bee said on its website. "Last year was the first time in 52 years that two people had shared the trophy, and 2015 marks the first time in the bee's 90-year history that there have ever been co-champions two years in a row. This is only the fifth tie ever."
In the last minutes of the final, Ms Shivashankar and Mr Venkatachalam "navigated and sometimes breezed through the championship words with poise, like tennis players returning near-impossible shots", Scripps said in its report on the final. Ms Shivashankar started with "bouquetiere" and Ms Venkatachalam countered with "caudillismo". "It's not the first time in this competition he's proven he can handle a Spanish-derived word," the announcer from ESPN that covers the event, held in National Harbor in the US state of Maryland, said. Ms Shivshankar then spelled thamakau, a word of Fijian origin that describes a large canoe. Mr Venkatachalam came up with scytale, a message written in a method of cipher used especially by the Spartans. "That's how good these too are. For most spellers, that would be a nightmare," the announcer said. "That dictionary is no mystery to them." Among the words the two spelled on their way to the title were cypseline, urgrund, filicite, myrmotherine, sprachgefuhl, zimocca, hippocrepiform, nixtamal, paroemiology, scacchite, pipsissewa, bruxellois, and pyrrhuloxia.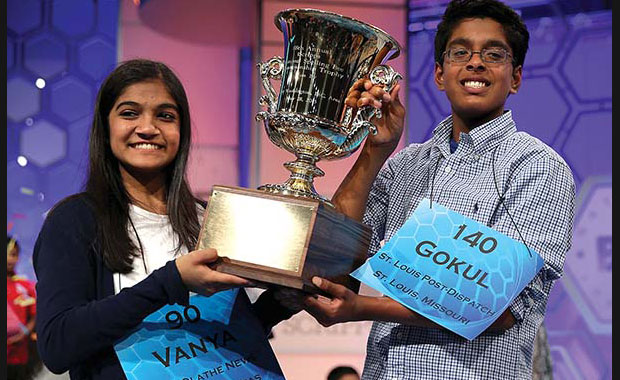 At this point, there were only four words remaining. "That meant that if both spelled their next words correctly, both would go home winners -- because there would be just two words left, not enough for a winner to spell two correctly in succession," Scripps explained. After asking about the origin, part of speech, definition and alternative pronunciations of the word, Ms Shivashankar nailed the word "scherenschnitte".