Remembering Church Shooting Victims
Sikh Religious Society Palatine, Illinois organized prayer service and a candle light vigil in remembrance of the nine victims of the shooting at the historical Emanuel Methodist Episcopal Church in Charleston, South Carolina on June 17, 2015. The 21 year old Dylan Roof, a white supremacist was captured by police a couple of hundred miles away in North Carolina. He admitted shooting at the African American parishioners. Sikhs encountered a similar incident of a shooting at the Oak Creek, Wisconsin Sikh Temple nearly 3 year ago. Hearing of the Charleston shooting opened up a wound still healing for the Sikh community. More than 200 Sikhs, neighbors and guests attended this vigil at Palatine, Illinois Gurdwara on June 24. The event started with Ardaas (Sikh Prayers) by Manpriya Kaur and singing of a Sikh hymn by Sahibnoor Kaur.
Nine candles were lit for the nine victims who lost their lives during this shooting in Charleston, while their names were read by Jaspreet Singh and Amrit Kaur Thind. Ms Natasha Kaur explained the importance of this event to show solidarity against hate. "We know, deeply and profoundly, what the pain of hate violence means. We want to show that love, prayer and unity far outweighs hate. We invite communities to unite and heal with prayer for the nine victims and all of humanity," said Ms Natasha Kaur.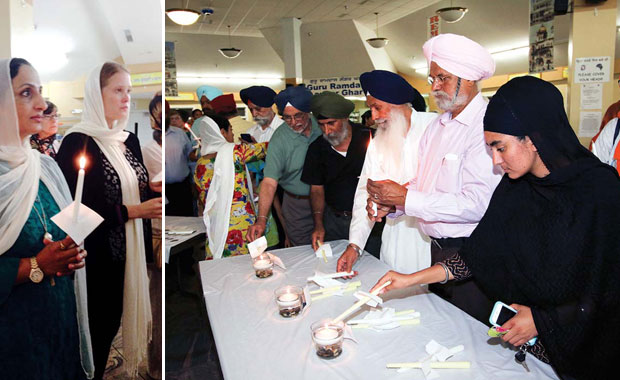 "We are all connected in sorrow and determination to end racial and hate violence in our communities," said Mr Satnaam Singh Mago emphasizing, through his poem, why we all need to be activists against hate crimes so that tragedies like this are not repeated. "The origins of Sikhism were based on activism against tyranny and standing up for truth and justice, not only for themselves, but also for others," he added. The society president, Dr. Jasbir Kaur Saluja, thanked all the guests, participants and the organizers. "We, the Sikh American Community, are shaken to the core seeing hate crime raising its ugly head again. It will be three years in August 2015, when we saw the same fire of racial hatred in the eyes of another white supremacist, who killed six worshippers at the Sikh Gurudwara in Oak Creek, Wisconsin. We want to convey to the worshippers at the Charleston's Emanuel African Methodist Episcopal Church that we, with the Nation behind us, are more than ever determined to preserve the delicate fabric of American Togetherness that has been built by the sacrifices of pilgrims of past and present. Any such acts of hate will double our determination to bring unity and peace for one and all."