Connecting With Diaspora
Prime Minister Mr Narendra Modi's visit to the USA was a resounding success insofar as his connect with the India diaspora is concerned. Mr Modi invited the diaspora to attend the PBD 2015 in Gandhinagar, Gujarat in large numbers, an event that would be followed by the Vibrant Gujarat Summit. He urged upon the Indian American community to be a part of his Make In India initiative. He announced lifelong visa for PIO card holders, hitherto available only to OCI card holders. He said that through its conduct, excellence, capability, the diaspora has been able to earn the respect of Americans, and has also ensured that the world's respect for India has gone up. He mentioned that many Indian Americans were directly involved during the elections by contributing their time and resources in India, including in remote villages. He said that for their contribution he was very thankful to each and everyone of them who made a historic win possible for his party.
Excerpts from his speech at Madison Square Garden
I greet you all on the occasion of Navratri festival. It is the festival of Shakti, of purification, of increased faith and dedication…
There was a time when our country was known as a land of snake charmers. Yes, it is true that our ancestors used to play with snakes. But our youth plays with the Mouse. They have charmed the world with the (computer) mouse.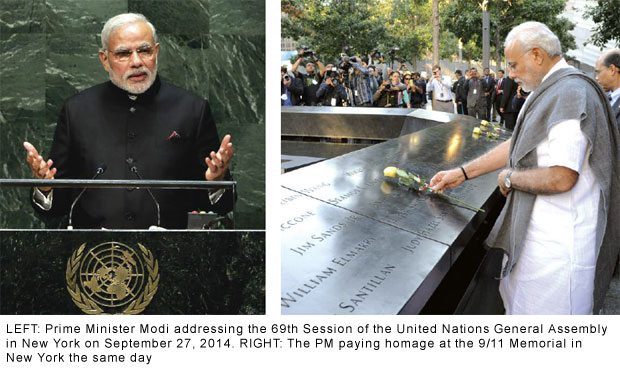 After 30 years India has formed a Government with absolute majority. The results cannot be stomached by India's political pundits, because they did not forsee such a result. The opinion makers failed to create enough opinions. It is the villager, the poor, the illiterate who has helped shape the opinion of the opinion maker. The Indian elections are a story of India's vibrant democracy, its abiding importance and lasting legacy. But winning the elections is not about getting positions, it is not about sitting on ministerial chairs, it is a huge responsibility that must be met.
Since the time I have sat on my chair, I haven't taken a 15-minute vacation. I assure you that we will not take any vacation from nation building. We will not do anything that will cause you to hang your head. Our country is filled with hope. People want change. The nation wants change. The poor of India have begun to ask "how much longer will they remain so poor?" They want change. I assure you that our Government will leave no stone unturned in order to bring an economic change, a social change, and a change in your personal lives—all for the better.