"We are becoming pro-consumer"
A heavyweight with a formidable track record at the top levels of Indian politics, Mr Ram Vilas Paswan has been tasked with a challenging portfolio—Consumer Affairs, Food and Public Distribution. His job is to ensure that the tormented customer's trust in the free-market economy in restored. It is a market where with the daily advent of new brands and slick marketing, consumer complaints are constantly on the rise. Mr Paswan needs to ensure that Mahatma Gandhi's noble words on the importance of the customer are practiced each day this country. In previous Governments, Mr Paswan held key federal ministerial positions in Labour and Welfare, Railways, Communication and Information Technology, Coal and Mines, Chemicals and Fertilizers, and Steel. A Member of Parliament for 38 years, Mr Paswan has been elected to the Lok Sabha eight times, and nominated to the Rajya Sabha once. In the 2014 elections, he entered the Lok Sabha for the eighth time from Hajipur, a largely Dalit constituency he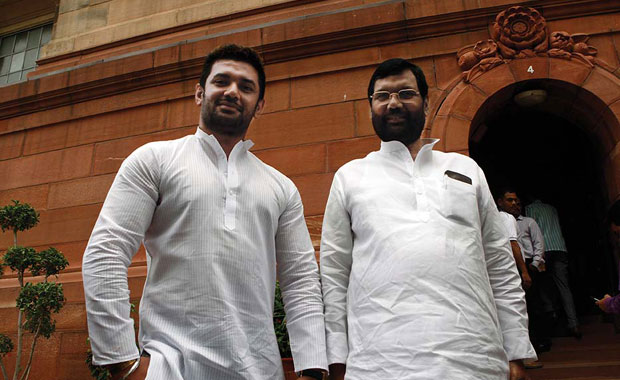 LIKE FATHER, LIKE SON: Mr Chirag Paswan, MP (left) has followed in the footsteps of his illustrious father and entered the hallowed portals of Indian Parliament by winning at the last Lok Sabha elections from the Jamui constituency of Bihar
What is your personal vision and mission for the Department of Consumer Affairs?
I want this department to become the strongest it has ever been in its history. I have been very fortunate that until now wherever I have been, I have made a difference to that department and taken it to the top. While with the Labour and Welfare Ministry I had to handle at the time what are 6 different departments today. The workload was enormous, as you can imagine. It was a very important portfolio. While with the Ministry of Railways I introduced 6 new railway zones, taking the number of railways zones to 10 in India. While in the Communications and IT Ministry, I realized that consumers were being charged Rs 16 per minute for outgoing calls, and even incoming calls were being charged. We strongly opposed this harsh tariff structure and introduced the WLL. While at the Coal and Mines Ministry we prevented the sale of Coal India. Today it is one of India's Maharatna PSUs. In this Ministry, we are open to suggestions. I would like to sincerely thank Prime Minister Modi for his support and suggestions for making this department extremely effective.
How is the Government moving towards providing an effective, inexpensive and speedy redressal system for consumer disputes?
As an apex institution, the National Forum has parity with the Supreme Court when it comes to matters related to consumer affairs. We are ensuring that we have a National Forum that is moving around, not static, and goes to states to address issues. We are upgrading infrastructure at district and state forums. At present, a common man is made to wait even 3 years for judgments to come out. I will personally request PM to reach out to all CMs in this matter and make them understand the importance of consumer affairs. We are confident that once significant changes in infrastructure come about at the lower levels, marked improvements will show up in the system of delivery of justice.
How are you strengthening the PDS that will go a long way towards Food Security?
PDS is a state subject. Our job is to procure goods from the market, transport them, and store them in warehouses. Once the state Governments pick them up, our jurisdiction ends. That is where we feel corruption begins, since we are unable to track if the goods are reaching the beneficiaries of the PDS system. We are implementing the Food Security Act to overcome this problem, it is already applicable in 13 states and will be enforced in many other states by end of September. CCTVs are being installed at several places to keep a watch over all warehouse activities. We are introducing doorstep delivery at the fair price shop for which 50 per cent of the cost is being borne by us. We are on a major computerization drive through which transport, warehousing and deliveries can be tracked online. We have plans to link the Aadhar card with the ration card, and question of duplications should come down and reduce corruption by 90 per cent. Some state Governments are hesitant about implementing this, but we are determined to have our way for the benefit of the poorer segments of our population. For instance in Bihar 7.07 crore people are benefiting from the PDS, but actually the figure should be 8.71 crore. We are determined to bridge the gap.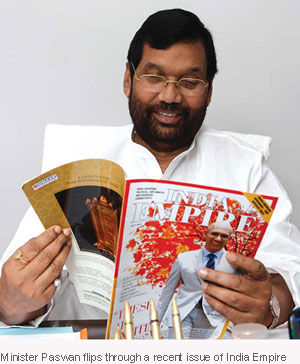 Are improvements being made in the Warehousing Sector?
In warehousing sections, we have plenty of land and space but the condition of majority of warehouses is not good. We have targeted to fix them within a time frame and further transform them into cold storages. The cold storages will help us in storing the fruits and vegetables during the difficult months of July, August, September and October. During this period of the year, the prices of these commodities really hike up and this is not due to the lack of production but due to the panicking situation in the market. Thus, this step would help us in controlling this situation. We have issued guidelines that all warehouses that are not in the best of conditions need to be modernized. We have currently taken up modernization of one-third of the total warehouses across the country, the entire modernization of the warehousing system should take about three years. We are developing the silo structure for storage. Even though it is slightly costly, it is completely leakage proof. And the silo structure development is being done on a priority basis.
Does the backward and Dalit community feel that enough is being done by this Government?
Our aim is Power to the Poor for which some key strategies of empowerment have been put in place. For instance, we have the Pradhan Mantri Suraksha Yojna wherein a person is required to put in Re 1 per month in order to get an accident insurance cover worth Rs 2 lakh. Secondly, we have the Jan Dhan Yojna in which a person is required to put in Rs 330 per year, and Rs 2 lakh will be paid on death of the member concerned. We will not leave any stone unturned to help and reach out to the have-nots.