Afghanistan — A Cultural Gem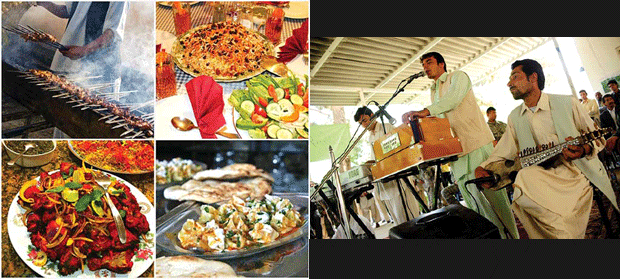 Afghanistan is an Islamic country. An estimated 80 per cent of the population is Sunni. The remainder of the population is predominantly Shia. The rise of the great Mughal Empire again lifted Afghanistan to heights of power. Afghanistan extends from the imposing Pamir Mountains in the northeast Wakhan Corridor, through branches of smaller mountain ranges, down to the southwestern plateau where the fertile regions of Kandahar merge with the deserts of Farah and Seistan. More than 49 percent of the total land area lies above 2,000 meters. There are a number of smaller mountain ranges spanning Afghanistan but the largest mountains are found in the north-eastern section of the 600 km Hindu Kush mountain range.
Afghanistan is completely landlocked, bordered by Iran to the west, by the Central Asian States of Turkmenistan, Uzbekistan, and Tajikistan to the north and northeast, by China at the easternmost top of the Wakhan Corridor and by Pakistan to the east and south.
Art and Music
Afghanistan local arts spans back to many centuries. The world's oldest oil painting was also found in Afghanistan. One of the most famous kinds of art in Afghanistan is the Gandhara art found between the 1st and 7th century. The Gandhara art was based on Greco-Buddhist art. Since the 1900s, the nation began to use Western techniques in art and Abdul Ghafoor Breshna was a prominent Afghan painter and sketch artist from Kabul during the 20th century. He made many paintings and skteches but most were lost or destroyed during the decades.
Originally, the Afghan art was entirely done by men but in recent times the women have started venturing into arts programs at Kabul University. Art is largely centered at the National Museum of Afghanistan, the National Gallery of Afghanistan and the National Archives of Afghanistan in Kabul. There are a number of art schools in the country. The Center for Contemporary Arts Afghanistan (CCAA) in Kabul provides young people to learn contemporary paintings. The women in Afghanistan have also begun to take center stage in theatre arts.
Other known forms of art in Afghanistan are music, poetry and several sports . The art of making carpets and beautiful oriental rugs has been prominent for centuries in Afghanistan. The Afghan carpets have certain prints that make them unique to Afghanistan.
Afghans enjoy music by playing many types of instruments. The Attan, which is considered the national dance of Afghanistan is thoroughly enjoyed by the people. The folk songs or ballads are most popular amongst Afghans. Many of the songs are known by almost everyone and have been around for many years.