"Senegal is an attractive business destination"
Senegal and India share a historic, diversified and strategic partnership. This relationship is developing each year at the political...
This significant south-south cooperation project, funded by the Indian Government for the first phase at a total amount of 116 million US Dollars for five years is now extended for a second phase. The Pan African E network allows, through satellite connectivity, the 54 African countries to benefit from Indian expertise and facilities in education and health. The project, which links 7 Indian and 5 African universities, 12 Indian and 5 African super-specialty hospitals and 53 telemedicine and tele-education centres in Africa, is aimed at benefitting African students undertaking certificate, graduate and post graduate courses.
It also gives to our Heads of States secure VVIP connection for their diplomatic communications.
Senegal plays a strategic role in this project by hosting, in Sebikhotane, near our National Capital, the earth station. Senegal has therefore worked hard in the African Union to get the project extended.
What is the extent of bilateral trade between the two nations in recent times?
India and Senegal enjoy excellent relations not only in the political field but also in economic and commercial spheres. Senegal, being one of the leading francophone countries in West Africa, has played a significant role in the creation of the Techno-Economic Approach for Africa–India Movement (TEAM-9). In a bid to expand its economic reach, India launched an initiative in 2004 (TEAM–9), together with eight energy and resource-rich West African countries, including Senegal, Ivory Coast, Mali, Guinea-Bissau, Ghana, and Burkina Faso.
Bilateral cooperation is promoted within the framework of a number of agreements in the areas of trade, economy, science and technology and culture. An Agreement to set up a bilateral Joint Commission at the Ministerial level was signed in 1997.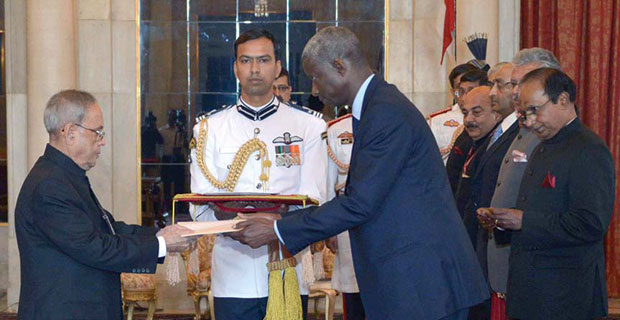 H.E. Mr El Hadji Ibou Boye, presents his credentials as Ambassador of the Republic of Senegal to President of India Pranab Mukherjee
The trade relations between Senegal and India are growing every year because of the dynamic promotion, by the trade bodies and also by the Indian and Senegalese Embassies, of the business opportunities which are available in our countries.
But the huge potential of trade is still insufficiently exploited even though the two countries' trade exchanges regained some momentum following the slowdown noted in the previous two years. Thus, the volume of trade relations between Senegal and India rose from 832.77 million US dollars, about 470 billion FCFA, in 2015-2016 to 999.50 million dollars in 2016-17, more than 564 billion. FCFA, an increase in relative value of 20.02% compared to 19.35% previously recorded.