"Not the last military aggression by China"
The ongoing military aggression across the Himalayas ...
"As per our strategy as a concern, prepare for the worse and hope for the best. We hope for the best to resolve our issue as soon as possible, at the same time, if not, we prepare for the worst situation." According to current India-China conflicts ranging from border dispute to international relations, he said, "I see that our 'middle-way approach' is the best solution to resolve our issue as well as China-India's conflict too". The 'middle-way approach', he said, through dialogue with China is envisioned by His Holiness the Dalai Lama and followed by the CTA.
Since the early 1970s, the CTA has pursued dialogue with the Chinese government based on the 'middle-way approach'. The global support received for the Tibetan cause has further re-affirmed CTA's commitment to the 'middle-way approach'. China will achieve the global standing it desires with its current path of coercion and military aggression and record of gross human rights violation.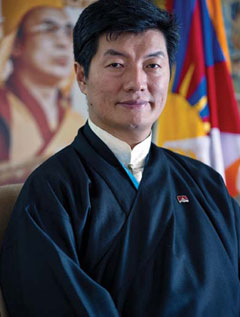 Toeing the path adopted by Tibetan spiritual leader the Dalai Lama for years to resolve the issue of Tibet with China through the 'middle-way approach', Sangay described the violent military face-off and death of the Indian soldiers uncalled for
The middle-way approach neither seeks separation from the People's Republic of China nor a high degree of autonomy but genuine autonomy for all Tibetan people under a single administration in Tibet. "To gain international legitimacy to China, I hope that Chinese leadership will realize how important it is soon," an optimistic Sangay added.