Preet Bharara at Queens Civic Congress Biennial
Prominent U.S. attorney for the southern district, New York, Mr Preet Bharara was the keynote speaker at a luncheon by the Queens Civic Congress. The capacity attendance event also featured Queens Borough President Melida Katz and several other notable elected officials. The event was sponsored by Queens Civic Congress Foundation and held at Antun's in Queens Village.
QCC Civic Achievement Awards 2016 for high achievements in community service were presented to: James Gallagher, Jr. (President, Fresh Meadows Homeowners Civic Association) presented by QCC vice president Kim Ohanian; Warren Schreiber (President, Bay Terrace Community Alliance) presented by QCC vice president Tyler Cassell; Christina Wilkinson (President, Newtown Historical Society) presented by QCC treasurer James A. Trent.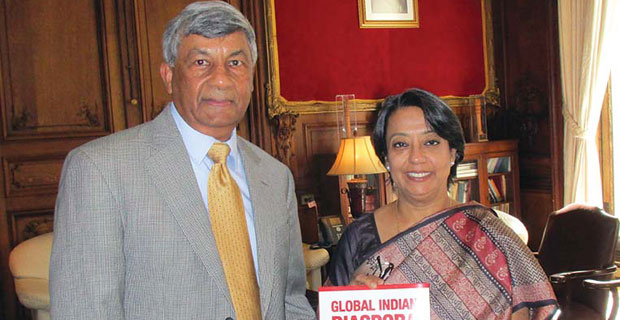 Mr Ashook Ramsaran, Vice President, Queens Civic Congress, presents a copy of India Empire Publications "Global Indian Diaspora" to Consul General of India in New York, Ms Riva Ganguly Das
Other elected officials in attendance included several NYC council members and NYS senators and assembly members. NYS Assemblyman David Weprin congratulated QCC and the honorees for outstanding community work. QCC vice president Richard Hellenbrecht made the concluding remarks, citing several QCC initiatives and support for many important community issues. Hellenbrecht also welcome the youth group of Civic Activism Network (CAN) and thanked Elmhurst United for supporting CAN's participation. Music was provided by John Walters.