PM's African Sojourn
Prime Minister Narendra Modi visited South Africa, Kenya, Tanzania and Mozambique—his first official visit to mainland Africa—and stirred the bonds of friendship and emotional connect. He met the Indian diaspora wherever he went, and said his trip to the Phoenix Settlement was life-altering. A report
KENYA
The Prime Minister said the historical people-to-people ties between the two countries have provided a strong basis for a wide-ranging partnership which extended "from agriculture and health to developmental assistance, from trade and commerce to investment, from closer contact between our people to capacity building, from regular political consultations to defence and security cooperation".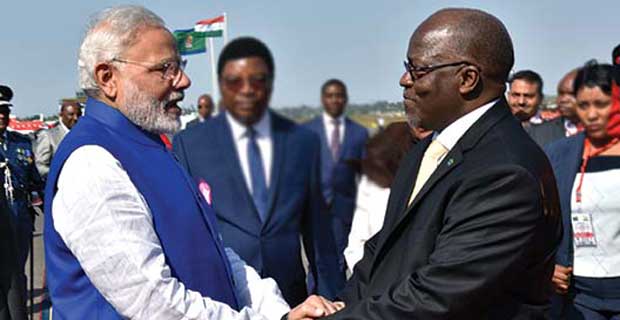 Prime Minister Mr Narendra Modi being seen-off by the President of the United Republic of Tanzania Dr John Magufuli on his departure from Dar es Salaam city, Tanzania on July 10, 2016
"India is Kenya's largest trading partner and second largest investor here," he said. "But there is potential to achieve much more." Mr Modi said the economies of both countries would benefit by "further expansion of investment ties, a more diversified trade basket and nurturing greater intensity of commercial links".