PM's African Sojourn
Prime Minister Narendra Modi visited South Africa, Kenya, Tanzania and Mozambique—his first official visit to mainland Africa—and stirred the bonds of friendship and emotional connect. He met the Indian diaspora wherever he went, and said his trip to the Phoenix Settlement was life-altering. A report
On his part, Kenyatta said that both sides broached a whole number of critical issues in Monday's talks. He said that India has promised to help in the area of health and would develop a cancer hospital in Kenya. India would also help set up a pharmaceutical company in Kenya to manufacture life-saving drugs. "We are keen in exploiting ties in sports also—India in terms of cricket, Kenya in terms of athletics," Kenyatta said.
Mr Modi laid a wreath at the mausoleum of Kenya's first President Jomo Kenyatta. He had arrived in Kenya from Tanzania to complete the final leg of his four-nation Africa tour. Soon after his arrival here, he addressed an Indian diaspora rally that was attended by over 20,000 people. Kenya is home to around 80,000 people of Indian origin. This is the first prime ministerial visit from India to Kenya in 35 years after the visit of then Prime Minister Indira Gandhi in 1981.
TANZANIA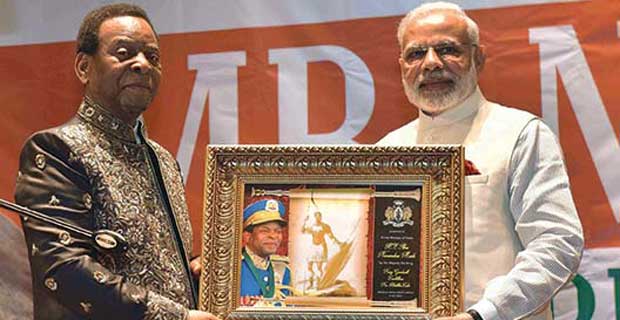 Prime Minister Narendra Modi described the Indian community in Tanzania as an important link for India with the east African nation. "Most early Indian migrants to your great country happened to be from my home state (of Gujarat)," Modi said in a speech at a banquet hosted in his honour by Tanzanian President John Magufuli. "Today, the Indian-origin community in Tanzania is an important link between our peoples in the fields of business, healthcare, and education," he said. Prior to the banquet, Modi interacted with members of the Indian community, which numbers around 50,000 in Tanzania. The Prime Minister said that while India has emerged as the fastest growing economy in the world, Tanzania was one of the most important economies in Africa. "Our comprehensive agenda of cooperation is driven by our key development priorities and our common security needs," he said. "These discussions would lay the foundation on which we will construct a 21st century partnership." Mr Modi said India would always be a trusted partner in the developmental journey of Tanzania. India and Tanzania signed five agreements following delegation-level talks headed by Mr Modi and Mr Magufuli.