Giant Strides
From a tin-shed in the late 1980s to a 1000-bed hospital, 250 doctors, a Cancer Research Institute, a medical college, an engineering college, a Rural Development Institute, thousands of students,
Dr V Chauhan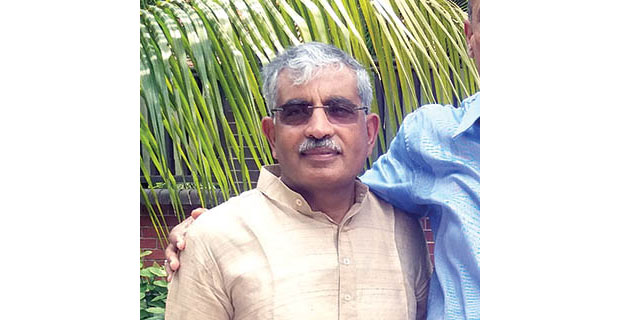 After passing my post-graduation from Mahatma Gandhi Institute of Medical Sciences, Sewagram, with flying colours in 1987, I was offered the post of lecturer which I gladly accepted. In 1988, I got married to Dr. Neena. Neena belonged to Meerut and did her graduation from Meerut Medical College. During my two-and-a-half year stay at Sewagram after my post-graduation, I started feeling the urge of doing private practice and earning money. In 1990, I resigned my lecturer-ship and came to Saharanpur to do private practice. Due to God's grace, within 4 years I had a thriving practice. I started earning money but began to feel that I need to do something that would give me internal peace. "Am I living only for earning money?" Such thoughts use to come to my mind. Hence I started doing free surgeries for poor and polio patients, but still, that did not satisfy me. One fine day one of our family friend's brother who was also a doctor developed, cardiomyopathy and very severe heart problems. When we were taking him to Escorts Hospital in Delhi a thought came to my mind: At a young age of 28 he has developed cardiac problems; my life is so stressful; I am operating from 5 o'clock in the morning and working till 11 o'clock in the night; am I also going to meet a similar fate? Such thoughts came into my mind.
Dr. Sunil Saini (now Director, Cancer Research Centre) was also travelling with me. I conveyed my feelings to him. Dr. Sunil Saini had already met Swami Rama. He used to talk about him occasionally, and indicated that in future he would be joining Swami Rama's Hospital, which was coming up in Jolly Grant, Dehradun. Seeing my successful practice and the investment I had made, he did not have the courage to tell me to also come and join Swami Rama's Mission. The incidence of my friend's brother developing Cardiomyopathy stirred me; I told Dr. Saini that I want to see Swami Rama's Hospital. Both of us planned a visit to Jolly Grant. The moment I arrived at the campus at Jolly Grant, the aura of the campus made me feel that this is the place where I need to devote my life. Dr. Saini introduced me to Dr. Anil Singhal, a neurologist who had renounced his practice in USA and joined Swami Rama's mission. He was the Medical Director at that time.