OPERATION GANGA: HOW INDIA GOT ITS CITIZENS OUT OF UKRAINE
To have evacuated safely more than an estimated 18,000 Indian nationals from Ukraine amidst the ongoing conflict, is truly a commendable task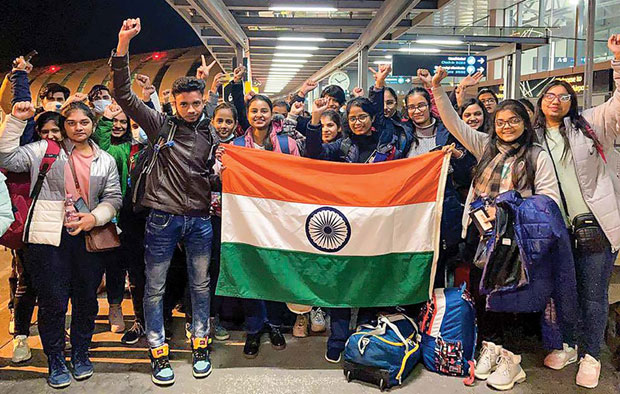 This is not the first time that India has evacuated its citizens from conflict zones. In 1990, when Iraq invaded Kuwait, India evacuated nearly 200,000 Indians stranded there over a period of two months. In 2015, India undertook Operation Raahat to rescue thousands of Indians and hundreds of people from other countries at the height of the conflict between the Yemeni government and Houthi rebels. Then in 2021, India launched Operation Devi Shakti to evacuate its nationals from Afghanistan after the fall of Kabul in August that year.
In the case of Ukraine, the government has operated some 80 flights under Operation Ganga to safely bring about 18,000 Indians back home. Of these, private airlines operated 46 as on March 9. Notably, the government decided not to charge anything from those being evacuated. This means that the Centre will have to pay approximately Rs 66-70 crore per flight for a two-way operation.
Of the 46 evacuation flights, 29 were operated to Bucharest in Romania, 10 to Budapest in Hungary, six to Rzeszow in Poland, and one to Kocise in Slovakia.
With Prime Minister Modi leading from the top, the Ministry of External Affairs established 24x7 control centres to provide the impetus for the necessary flow of information out of Ukraine. This ensured that the Centre was able to match records of Indian nationals with available databases. This process was further helped by friendly countries in Eastern Europe, like Poland who waived documentation requirements for Indians to enter and then fly home. A key part of this exercise was the constant conversations that the government had at the highest levels, with heads of state. This ensured smoother facilitation of the evacuation process.