"5G milestone has been achieved under PM Narendra Modi's leadership"
Mr Ashwini Vaishnaw is the Indian Federal Minister for Railways, Communications, Electronics and Information Technology since July 2021. He'd started out as a civil servant (IAS) in 1994 and quit the service in 2010, but not before taking a sabbatical to complete his MBA from the Wharton School at the University of Pennsylvania. Subsequently, he took up private sector assignments including as managing director of GE Transportation in India, and Vice President-Locomotives and Head of Urban Infrastructure at Siemens. While with the Government, he'd also worked as deputy chairman, Mormugao Port Trust. He, therefore, brings in wide experience from both public and private sectors. He responded to questions from India Empire's Editor and Publisher Sayantan Chakravarty on a range of subjects encompassing the ministries under his charge. PICTURE BY: SIPRA DAS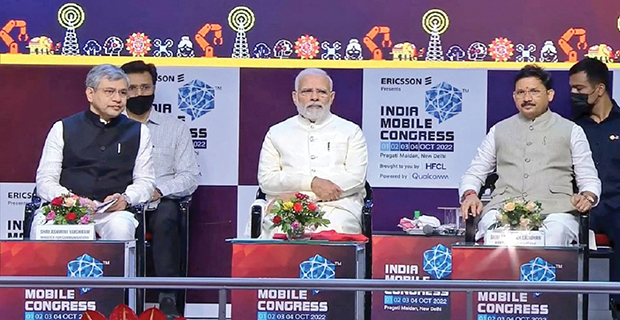 Government is committing big time to BSNL. Recently a huge package has been approved for its revival. Does BSNL have a role and future plan really?
There is a clear thrust by PM Modi on inclusive growth and inclusive development. BSNL plays a very important role in reaching out to the unconnected places and bridging the digital divide. It is also a market stabiliser. During the last financial year, BSNL made operating profit (at the EBITA level). Now, from this level, we have to make it a growing company in terms of number of subscribers, revenue and profitability. To increase revenues and subscriber base, BSNL would be rolling out 4G networks in the coming months, and plans are to start offering 5G services by the end of 2023.
What about manufacturing semiconductors?
We have made excellent progress. Usually, these decisions take 14-18 months. Our intent is to fast-track the whole process. The policy was uploaded on January 1 this year. Hopefully, the process will be concluded within this year itself and the first fab may even get going this year. It could in fact be multiple fabs along with a very good design ecosystem. Globally, everyone is now looking for a reliable and trusted source like India and we must utilise our talent-base to capitalise on this opportunity.
Another reason for you to be happy must be Vande Bharat 2. How important and challenging is it to make a world-class train?
PM Modi gave us the target of creating an indigenous world-class train. World-class refers to benchmarking with respect to ride quality and comfort for passengers, adherence to highest safety standards, and other engineering aspects like energy regeneration while braking.
Happy to inform that our talented engineers, mechanics, welders, etc. have created Vande Bharat that is truly world class. Its ride quality in terms of cabin comfort, low ambient noise levels and stability (very little lateral movement) etc. is truly superior. What's significant is that this ride quality will improve further once the tracks are improved. Vande Bharat is equipped with 'Kavach' , our indigenous train protection system which is best in class.
Also, when this train applies brakes, it generates power and starts feeding that power back into the overhead catenary. VandeBharat is today a great showcase of the spirit of Aatmanirbhar Bharat.
Station Redevelopment is another big project that Railways has undertaken. The Cabinet has recently approved the budget for 3 major stations. Will we see new designs for stations in smaller towns also?
For a passenger, Railway Stations sets the tone for overall train journey experience. PM Modi ji asked us to create these stations keeping in mind the next 50 years. Overall, some 200 stations will be taken up for redevelopment. Most of these will be tier 2 and tier 3 cities.
We started with Gandhinagar Capital and Rani Kamlapati Station as pilots. Now New Delhi, Chatrapati Shivaji Maharaj Terminus, and Ahmdavad Station are design ready, and the tender process will be completed soon.
Please share some new features of these redeveloped Stations that we will experience and see when they are ready.
Important part here is that these redeveloped stations have been visualised and planned completely differently. They are designed to unite the city and become a central economic hub of the city. Roof top plaza on all stations will create new urban space in the heart of the city. These plazas will act as a common area for all passengers with the station platforms underneath. The plaza will house food courts, stalls and kiosks selling local products as in any good mall. Another significant element for families will be a dedicated play area for kids.
We have been fortunate that PM Modi ji has personally guided us on each and every project element of these new stations.