Peerless Stalwart
Mark Spitz may have scorched the swimming pool at the Munich Olympics with seven gold medals, but he probably missed...
Dr Marwah came to the USA soon after the Guggenheim Foundation offered its very first Dental Fellowship in India. It was the year 1950, and the 24-year-old Amarjit appeared for an interview in Bombay. There were 40-odd dentists in contention. But given his convincing skills and fine articulation, Amarjit stole the show, and with it pulled the fellowship rug from under the feet of other candidates. His maiden voyage overseas followed, and he landed in New York to pursue higher studies through the Pediatric Dentistry fellowship. It was rare to find an Indian in the USA those days (perhaps there were no more than 50 across the country), and rarer still to see a turbaned Sikh walking the streets. Amarjit was code-named Young Santa Claus. The two well-known Indian names that he frequently heard about on arrival were J.J. Singh Walia and Bhagat Singh Thind, youngsters who were at the forefront of a movement to seek better rights and prospects for Asians and Indians.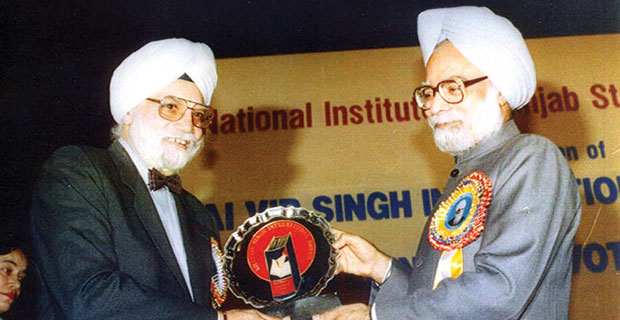 Even as his year-long fellowship at the Guggenheim Foundation in New York was drawing to an end, he had secured an admission and another fellowship at the College of Dentistry at the University of Illinois, Chicago where he pursued an MS in Pathology. After two years of graduate study, he received another fellowship from the Howard University in Washington DC to pursue a two-year program in Doctor in Dental Surgery. This too was completed on time. In 1954 he became the very first Indian doctor in the USA to obtain a license to practice dentistry. The same year he returned to the University of Illinois in Chicago and became a full-time teaching faculty at the College of Dentistry.