DUBAI BEYOND THE HORIZON
Architecture Marvels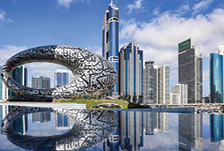 Dubai is famed for its one-of-a-kind and out-of-this-world experiences, where you can live in the future now with its advanced technology, planning and construction, and gorgeous buildings in various shapes and forms.
While driving by the Burj Khalifa and the Dubai Frame, don't forget to stop at one of Dubai's most iconic attractions, the Museum of the Future (MOTF), which takes pride of place along the city's superhighway, Sheikh Zayed Road.
The museum, designed as an asymmetric torus clad in steel and glass, has been named one of the 14 most beautiful museums in the world by National Geographic.
Termed as a 'living museum', it incorporates elements of traditional exhibitions, immersive theatre, and themed attractions, so visitors can look beyond the present and towards the future's limitless possibilities. Furthering a global intellectual movement, it's also the headquarters for the city's 'Great Arab Minds' initiative that aims to identify 1,000 exceptional Arab talents across key fields.
To unwind, add The View at the Palm to your itinerary to experience never-before-seen 360-degree panoramas of Palm Jumeirah amid the shimmering waters of the Arabian Gulf and the Dubai skyline in the background.
Arts and Crafts
Dubai is also no exception when it comes to arts and crafts, which are highly respected by both locals and visitors. At Souk Madinat in Jumeirah, take a stroll around the market to see the local art and crafts; you may even get souvenirs for as little as AED 10 without burning a hole in your pocket. It is open from 10 a.m. to 11 p.m. and sells a wide range of handcrafted items.
Simultaneously, don't miss out on the Theatre of Digital Art, which is housed just in Souk Madinat Jumeirah. The most recent addition to Dubai's cultural landscape. With advanced technology and engaging narrative, the Theatre of Digital Art at Madinat Jumeirah gives famous artwork a modern spin.
And while your trip takes you to the Old Dubai area, don't forget to stop by the Coffee Museum. It is a haven for learners of all ages and a coffee lover's paradise for sure; the museum is located in the Al Fahidi Historical Neighbourhood, tucked among the tiny passageways of the old area, among many other gems, and should not be missed. Coffee has long been an important element of Arabic culture, and the museum demonstrates why.