DUBAI BEYOND THE HORIZON
Games and Entertainment
The 'City of Dreams' is surely a sight to behold, but there's more in store for fun learning holidays because a trip without fun and games will be unfulfilled.
Getting out of our comfort zone is usually a fun learning experience, and if you've never played a round of golf, now is the time. The 3D Blacklight Mini Golf at Jumeirah Beach Residence (JBR) will transport you into a fantastical world of sea creatures, space adventures, and fluorescent colours. The floors, walls, and ceilings of this minigolf course are all covered in art made with UV-fluorescent paint, and designed to be viewed in 3D with special glasses that the venue provides.
It is said that sensory exercises aid in the development of curiosity, problem-solving, and creativity. If you want to get your hands muddy with your child, The Mud House Studio is more than simply a studio; it is a living, breathing space. It can be a fun classroom, an inspiring workshop, a relaxing cafe, or anything else you want it to be. Explore our studio to study, shop, and host events, among other things!
Aside from all the hands-on activities, don't miss the massive 10 million-liter tank at Dubai Aquarium and Underwater Zoo, located at the world's largest mall, the Dubai Mall which houses over 33,000 aquatic animals and the world's largest collection of sand tiger sharks.
Daily Bread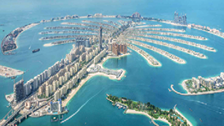 Eat like a king in the land of the king. Dubai offers a plethora of culinary options from budget to one and only Michelin-starred restaurants. The tourism and luxury hub has something for everyone ranging from Chinese, Indian, and Arab cuisine. Thanks to the fact that expats make up the bulk of the population.
To experience fiery plates that are stuffed with flavour and imagination swing by Hutong, a fine-dining Chinese restaurant located in the heart of Dubai International Financial Centre. From the scallop, squid, and shrimp dumplings to the truffle egg fried rice, and even vegetarian fare like the tasty wild mushroom and truffle bao, there's no reason not to embrace the spice.
Vegetarian may sound dull and boring, but hold on because Avatara, Dubai's only Indian Vegetarian Michelin-starred restaurant, is eager to take you through their massive 16-course meal. At Avatara each dish is meticulously prepared and decorated. The dishes are presented with an explanation of the ingredients and their origins, as well as a personal story from the chefs.
For an exotic culinary journey from the Far East to the Middle East, visit the multi-award-winning Asia Asia restaurant and lounge in the heart of the famed Dubai Marina and overlooking the Dubai Water Canal, Business Bay.
Dubai is a city that is constantly expanding, so, if you're ready to jet set and go, brace yourself to be awed by what they have in store for you.