After India, Jhaveri Fought For Freedom In Tanzania
To pay tribute to an outstanding freedom fighter, Kantilal Zhaveri, his widow, Urmila, returns to Tanzania from India this week to donate his papers and documents to the national archives and also launch her memoirs of the women's struggle in this East African country, report Kul Bhushan and Sultan Jessa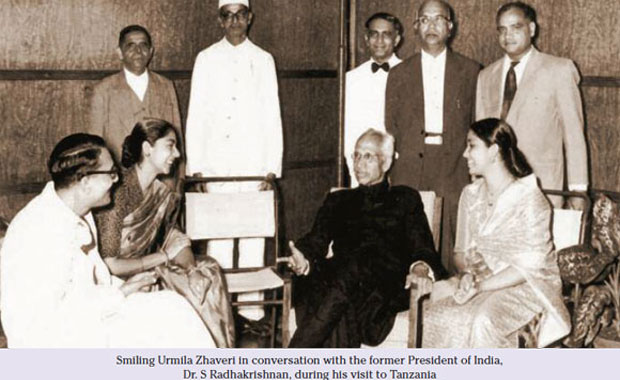 When Jhaveri arrived in Tanganyika, the country was starting its freedom struggle and he wasted no time in getting deeply involved in this campaign. "This opened up a whole new window for me as well," said Urmila. "After our marriage, we took part together in rallies and meetings in heady pre-independence days in Tanganyika."
Urmila was also deeply committed to social work under the National Women's Organization. "My best moments came when I visited remote villages, shared problems, meals and songs, dancing with women, holding hands of almost naked mad men or listening to the witches' call at night. I went to these villages with my fellow African women's leaders and we stayed overnight in many of these villages to know their problems and issues and provided solutions."
"It was scary sometimes as the dancing stopped and loud voices of witches were heard late in the night," she said, "My other problem was vegetarian food which they made especially for me," she said.
After working closely with the most prominent leader, Julius Nyerere, Jhaveri contested and easily won a seat in the country's Parliament from Dar-es-Salaam Constituency. He served as an MP before and after the country won its independence. Jhaveri also served as the President of Tanganyika Law Society for 15 years and chaired many important committees, commissions and social welfare organisations. Jhaveri was a member of the team of lawyers who defended Nyerere in the libel case of 1958. He later wrote, "Marching with Nyerere," a book on Tanzania's founding father and it's first President. This book mainly deals with the freedom struggle and challenges faced by the new nation.