Zurich Airport wins bid to develop UP's Jewar Airport
Zurich Airport International AG was on Friday ...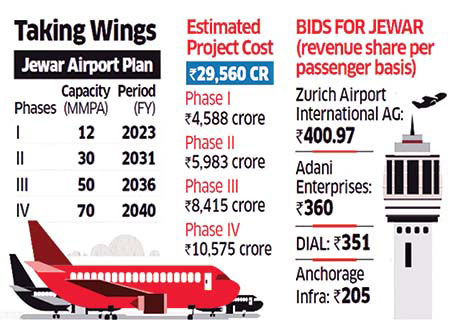 "Under a 40-year concession, the Flughafen Zurich AG will build and manage the new greenfield airport in Jewar. The new airport will be located around 80 km south of Delhi and will be fundamental to accommodate the expected flight traffic growth rates in the National Capital Region," the company said in a statement. "The capital investment associated with the first phase is expected to amount to roughly CHF (Swiss francs) 650 million during the construction period of approximately four years. The first phase will be able to accommodate around 12 million passengers per year," it added. This is not the first time that the company has participated in India's aviation sector. In 2017, it had sold its remaining stake in Bengaluru's Kempegowda International Airport. Commenting on the development, ANAROCK Property Consultants Vice Chairman Santhosh Kumar told IANS: "The expectation is that just like any mega infrastructure project, this greenfield airport will give a major boost to the overall economic activity around the Noida and Greater Noida region.